Black Business
Black Entrepreneur Does Homework, Now Owns 20 Airport Restaurants to Hit $50M in Revenue This Year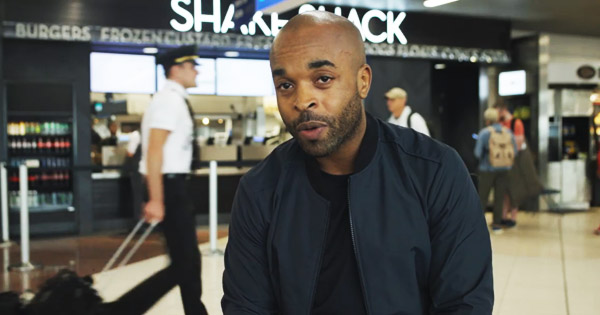 Meet Randy Hazelton, the 43-year-old CEO of H&H Hospitality, a Black-owned company that runs concession stands and restaurants in major U.S. airports. Starting from scratch and learning from his past, he now runs over twenty different airport restaurants, employing nearly 100 people. He owns multiple Shake Shack and Auntie Anne's stands, and his company is on track to hit $50 million in revenue this year.
Growing up in a military family, he moved around a lot and eventually settled in Atlanta. He credits his dad for instilling discipline in him. But as a teen, Randy often skipped homework to play basketball because he said he enjoyed it more than just sitting down and studying.
When he ventured in a business and went through tough times, he realized his bad habits when he was a teenager. In 2006, he left his job to open Café Circa, a restaurant and bar in downtown Atlanta. While the business did well, it wasn't efficient enough and eventually led to bankruptcy. Randy realized the reason was that they didn't understand the restaurant business.
"We didn't know how to make money because we didn't do the homework," Randy told Forbes. He sold Café Circa in 2012 and used the money to start his franchising operation.
Hazelton founded H&H Hospitality in 2007 and they've been thriving with the support of a government program called Airport Concession Disadvantaged Business Enterprise Act (ACDBE), which supports minority and women-owned businesses at federally funded airports.
"It changed my life," he said. He calls the program a "springboard" for smaller companies aiming to expand in restaurant franchising.
One of H&H's spots is a Freshens yogurt and Famous Famiglia pizzeria at Atlanta's Hartsfield-Jackson Airport, one of the busiest in the world. They've also teamed up with Concessions International for a Shake Shack and Auntie Anne's restaurant on another concourse. Next year, the company plans to open a Slutty Vegan, a popular plant-based burger brand owned by entrepreneur Pinky Cole.
Moreover, the business has its challenges, including fees, advertising costs, and managing employees. To overcome those and succeed, Randy transformed himself into a "homework nerd" and used a copy-and-paste formula of what already works.
"Borrow from other folks," he says. "Some of the greatest successes are just copycats of something already here."
Be sure to follow him on Instagram @RandyHazelton and follow his company as well @HH_Hospitality