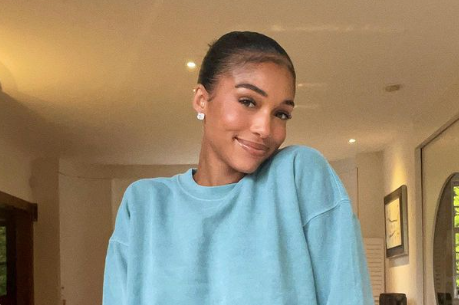 Lori Harvey is more than a pretty face. She is also a businesswoman, establishing herself in the competitive and predominantly white beauty and skin care business, a sought-after commercial model, and in the process acquiring a respectable fortune.
Although it's hard to pin down her actual net worth, as various outlets show a massive range from $1 million to a whopping $40-plus million, there is no doubt she's about obtaining that bag.
A beauty influencer, she has over 5 million followers on social media that the 26-year-old "it girl" uses to push her own and other brands.
RELATED STORY: 'It Girl' Lori Harvey Aims to Smash the Fashion Game with New Swimsuit Line
Model Money
Agency IMG Models and WME locked her into a contract in 2022, sure that she could use all of that beauty and star power to help them secure top clients and fashion editorial projects. She's rumored to earn more than $8 million a year from her modeling and business ventures.
Harvey joins other faces like Gigi and Bella Hadid, Hailey Bieber, Precious Lee, Paloma Elsesser, Alton Mason, Eileen Gu, Diana Silvers and Richie Shazam by signing with IMG.
By securing a spot on WME's roster, her rep will expand her business in "television, digital content, acting, producing, and beyond."
"It's a dream to work with IMG Models and WME," Harvey said, according to WWD. "I'm so excited for what this next chapter holds and am looking forward to expanding my business ventures across fashion, TV, film and entertainment."
Business Ventures
In 2021, the IMG model launched her company SKN by LH.
According to Pop Sugar, the brand, which at the time included only five introductory products, sold out of products within two days of its launch, cementing her as a player in the ethnic beauty care space.
With the launch of SKN, swiftly Harvey began to understand the need for her presence as a Black executive and to create history that younger Black women could look up to.