Tech
Extasy James' Father Was Deported Due To A Cannabis-Related Incident — Now, She Owns Queens' First Legal Dispensary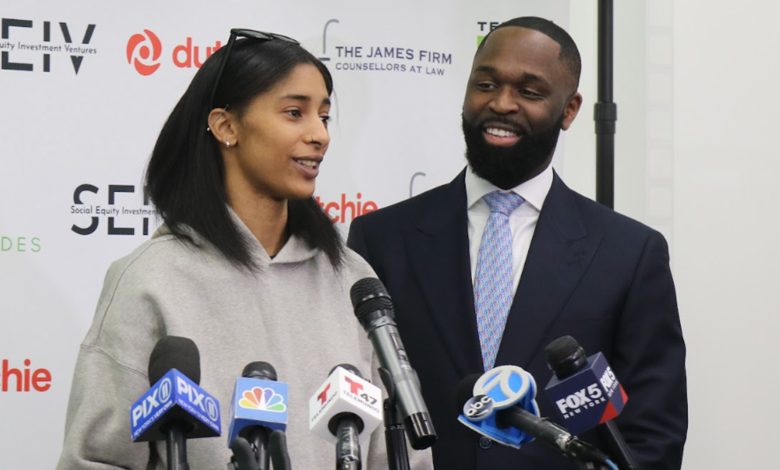 Oh, to be a part of history.
According to NBC News, Extasy James recently became the first woman to own a dispensary in the state of New York that will be financially supported by its social equity investment fund.
Good Grades Cannabis Dispensary
Extasy owns Good Grades cannabis dispensary located in the Queens borough of the city alongside her cousin Michael James Jr.
Not only is she making a historic feat as a Black woman in the cannabis space, but Michael noted another huge moment they encountered when the doors to the shop first opened — Queens Borough President Donovan Richards was the first person to make a purchase at their store.
"It was very ideal, and I think it killed a lot of stereotypes," said Extasy, pointing out that Richards purchased gummies.
Additionally, she expressed her emotions following the grand opening.
"It was so refreshing, and it was so fulfilling, and it was rewarding," said Extasy. "I also felt a lot of love, and that's more important. Not just from family and friends, but also from the staff, from security, from everyone."
The Journey
The journey to Good Grades was fueled by the New York State Social Equity Cannabis Investment Fund, which is a public-private partnership that provides renovated retail locations to businesses.
Prior to opening the shop as a temporary pop-up to give employees time to train and generate capital, the James family was able to receive their cannabis license through New York's Conditional Adult-Use Retail Dispensary license program.
This was a symbolic move for the pair as the program was designed to cater to those affected by cannabis restrictions, allowing those convicted of marijuana-related offenses and their family members to apply.
A Step Forward
The moment hits differently for Extasy, whose father was deported due to a cannabis offense. Therefore, the two joined forces joined to apply to the program as one small step toward justice.
"[Cannabis] goes from, you know, being literally a tool to over police our communities to now a tool of economic prosperity," said Michael. "The window of opportunity for poor, Black and brown communities, minority communities, to now benefit from it is just substantial."