Crypto
Founder Of Anti-Surveillance Crypto Monero Was US Government Informant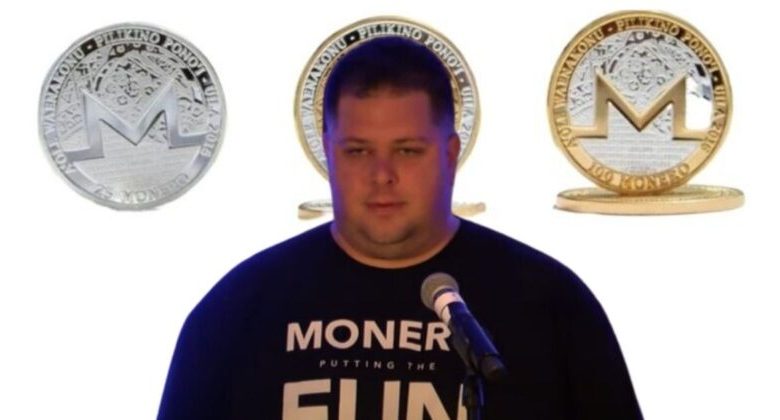 South African Roberto "Fluffypony" Spagni, the former lead maintainer of privacy-focused cryptcurrency Monero, denies being a government informant after a viral tweet alleged that Spagni was arrested by the South African Interpol and was awaiting extradition to the U.S.
The tweet, which included a screenshot of an alleged arrest warrant, triggered speculation on social media and news media that Spagni was cooperating with law enforcement, Cryptopolitan reported.
Monero ranks No. 25 on CoinMarketCap as of this writing with a market capitalization of $2.795 billion.
The cryptocurrency uses privacy-enhancing technology that claims to obscure transactions to achieve anonymity so that observers cannot decipher addresses trading Monero, transaction amounts, address balances, or transaction histories.
In a tweet on March 20, crypto influencer James Edwards shared reports from 2021. Based on the reports and emails, Edwards inferred Spagni could be an Interpol informant. The International Criminal Police Organization or Interpol is an international organization that works for worldwide police cooperation.
"Evidence strongly suggests he helped them track Monero," Edwards said.
Spagni was arrested in the U.S. in August 2021 while reportedly trying to escape fraud charges in South Africa for crimes dating back to 2009, BeInCrypto reported.


Black Americans Have the Highest Mortality Rates But Lowest Levels of Life Insurance
Are you prioritizing your cable entertainment bill over protecting and investing in your family?
Smart Policies are as low as $30 a month, No Medical Exam Required
Click Here to Get Smart on Protecting Your Family and Loves Ones, No Matter What Happens

South African news outlet MyBroadband reported that Spagni was released on bail and that the charges are related to a personal matter and not to Monero.
Spagni's former employer, Cape Cookies, accused Spagni of forging invoices and allegedly stealing $100,000 between October 2009 and June 2011, according to court records.
Edwards based some of his arguments on this case, and claimed in the thread that Spagni outed himself as an informant for Interpol after U.S. Marshals detained him pending extradition.
In the thread, Edwards cites emails he said show that Spagni did agree to cooperate with Interpol, but not on what. "One big hint," Edwards tweeted, can be found in the subject line of an email he cites, which reads, "UK MLA Request … MLA = Mutual Legal Assistance".
MLA requests solicit either statements and interviews, evidence on oath or in court "or asset tracing!!" Edwards added.
Based on the asset tracing requests, Edwards said, "I exposed @mymonero (project founded by @fluffypony) was a 'wallet' that stole funds and deanonymized users (en masse)."
Edwards also tweeted that he relied on Chat GPT's GPT-4 to reach some of his conclusions, drawing derisive responses from Spagni, who called Edwards "brain dead" and tweeted, without proof, "This nonsense post is unsurprising, coming from a known scammer."
Analyst and author of "The Black Swan," Nassim Nicholas Taleb, retweeted Edwards' assertions, claiming that if Monero's lead maintainer turns out to be an Interpol informant, his claim that every Bitcoin transaction can be traced could be accurate, BeInCrypto reported.
"The best way to keep your enemies at bay is to convince them you are working for Interpol," Taleb, tweeted. Spagni retweeted Taleb's tweet, adding "Now you're getting it."
Monero was first described in a white paper in October 2013 published by Nicolas van Saberhagen (a presumed pseudonym). It was later launched by someone named "thankful_for_today". Monero has no single founder or CEO. Instead, it has a community of developers, said to be the third-largest behind Bitcoin and Ethereum.
Its privacy features mean Monero is increasingly used in illegal activities such as money laundering, darknet markets, ransomware, and cryptojacking, Vice reported. The IRS has offered bounties for contractors who can develop Monero-tracing technologies.
Much of the core Montero development team chooses to remain anonymous. 
The fact that the story gained so much traction "shows the power of social media and the importance of verifying information before it's spread," Haseeb Shaheen wrote for Cryptopolitan.
Spagni denied all claims, tweeting, "At no point have I ever met with and/or helped a law enforcement agency, or a government, or an individual, or a government agency, or a company, or ANYONE to trace Monero."
He defended Monero's cryptography, saying he could not help the government with privileged access. "I have no privileged access to Monero's code, GitHub repo, website, Twitter account, DNS records, donated funds, or anything else."
Spagni admitted on Edwards' thread that Interpol did ask him for assistance but "never followed up with what they needed assistance with … They never responded with any details, they never reached out and told me what the request was with. It might not even have had anything to do with Monero, I have literally no idea what it was about."