Black Business
Founder of Black-Owned Canned Cocktails Brand Lands Distribution Deal with Sam's Club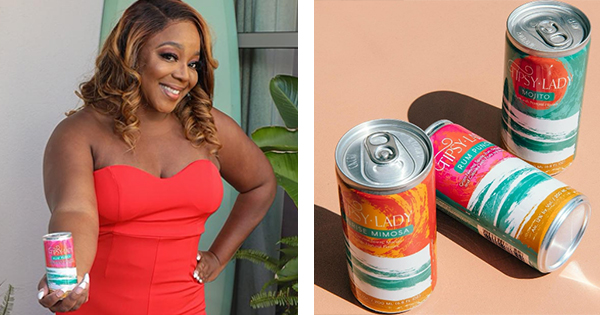 Toni Gilliard, Esq., the Founder and CEO of Tipsy Lady®, a Black woman-owned spirits brand, is thrilled to announce a strategic partnership with Sam's Club and Total Wine and More stores in Myrtle Beach, South Carolina. As a leader in the Ready-To-Drink premium spirits market, Tipsy Lady Cocktails has always prioritized innovation and a pioneering mindset in both its business practices and brand.
This collaboration will allow the brand to continue pushing boundaries with the added advantage of the Caribbean experience. Customers can also conveniently purchase their Gold award-winning canned cocktails on the company's website, which showcases cutting-edge DTC e-commerce technology.
With a forward-thinking approach and a commitment to cultural innovation, the aim is to provide customers with an exceptional end-to-end Ready-To-Drink and DTC experience. Gilliard expressed her excitement about this new endeavor, stating, "Our team is eager to collaborate with national retail partners to enhance the brand's presence, e-commerce website, and overall customer journey. We anticipate significant growth in the Ready-to-drink spirits market as consumers worldwide seek direct engagement with culturally curated brands."
"We are thrilled to partner with industry leaders like Sam's Club on this exciting project. Their expertise and retail knowledge will support our growth as an authentic and top-tier experience for our loyal customers, laying a strong foundation for our brand's future expansion," added Toni.
About
As a rising star in the premium RTD spirits industry, Tipsy Lady aims to foster human connections and deliver authentic taste experiences. Its brands and robust flavors are enjoyed by consumers from all corners of the globe. With Caribbean-inspired flavors like Rum Punch, Sunrise Mango Mimosa, and Mojito, the brand invites consumers to embark on a journey with them, celebrating culture without appropriating it.
Established in 2019, Tipsy Lady was founded with a mission to honor heritage, culture, and spice. As a Black woman-owned brand, driven by a deep passion for diversity, authenticity, quality taste, innovative spirits, and a vision of leaving a lasting legacy, the CEO is determined to establish TIPSY LADY® as a global brand in a white male-dominated industry. Tipsy Lady is about "tipping" the scales in the wine and spirits industry as it relates to women of color and ownership.
For more information, please visit the official website at TipsyLadyCocktails.com
Also, be sure to follow the brand on Instagram and Facebook
For press inquiries, send an email to contact@drinkstcre.com