Black Breaking News
'Love and Hip Hop' Star Tommie Lee Takes 'Messy' to a New Level By Pulling Up to the Hawks Game with Tamar Braxton's Ex-Fiancé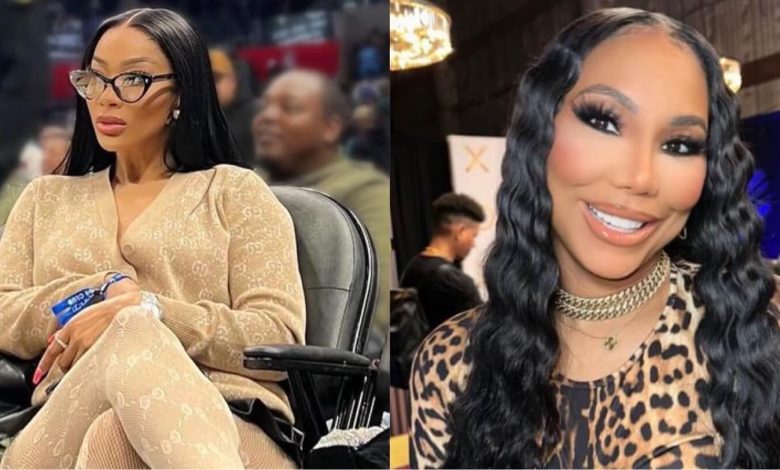 "Love and Hip Hop: Atlanta" star Tommie Lee is making headlines again. Once again, her drama is connected to a female reality star and that person's man (or ex-man). This time, the vixen, who has in the past suffered publicly from substance abuse, was spotted at an Atlanta Hawks game with Tamar Braxton's immediate ex-fiancé, Jeremy Robinson.
In the video shared to Tommie's Instagram Story on Saturday, Nov. 18, she captures herself flirtatiously grabbing onto Jeremy's wrist as he reads the roster for the Atlanta Hawks versus Philadelphia 76ers game. On the video, she writes, "Last night's game was all over the place." We don't see much of Jeremy's face until the following video, where Tommy finally shows him off for the camera and he gives fans a smile.
It appeared that Tommie Lee's choice to be seen with Jeremy may have been to intentionally get under Tamar's skin, considering she had just recently gotten into an argument with the "Love & War" singer online.
The social media squabble started with Tommie issuing a statement on the Chrisean Rock drama. At one of Tamar's recent shows to celebrate the 20th anniversary of her biggest solo hit, the singer invited her Baltimore little sister onstage.
Blueface's youngest son's mother thought that she was performing, and once she was told she was not, Rock allegedly beat up one of Tamar's friends and background singers. Tommie implied on social media that the controversy might have gotten people to pay attention to the tour and essentially helped the independent concert series out.
Once Tamar caught wind of this jab, she wrote on her Instagram Story, "And before someone takes my phone…if you on cocaine and your name starts with a T and [you] never even sold out a bag of blow pops…stay silent. God bless y'all. Let me and my team heal from this trauma in peace."
Someone please tell me why Tamar Braxton is dragging Tommie. 😭

WTF is even happening right now?! 😭 pic.twitter.com/2fUcQkiCHZ

— Bean Nicky Barnes 🇺🇸🇨🇺🇩🇴 (@BeanNickyBarnes) November 14, 2023
Tommie clapped back, saying, "Gotta address me for it to hit, muppet baby."
It did not end there. Tamar saw Tommie's "muppet" and raised her with a Miss Piggy read.
"So now y'all want me to address out of work reality stars??!! … Never. Me and my 'muppet' employed @ss will keep you on the list if I need a none fighting coke head for 2500 and episode for one of these shows of mine, I'm casting for. We not the same. God sell some @ss for your next hit.. I'm finna come with my next HIT."
Many think that at the root of this back-and-forth is Jeremy.
Jeremy and Tamar became lovers during her time on the Peacock dating show "Queens Court." The pair broke up in early October.
"So many questions. So many assumptions. I want to answer all that I can with respect," The personal injury and criminal defense attorney shared the news on his Instagram Story. "Yes, Tamar and I are no longer together. I ended the relationship to focus on getting back to positive energy & being a better person."
Now, with Tommie's eyes on Tamar's ex-boo, this will surely fuel the fire of this rivalry, and fans can spot the messiness from a mile away.
"Messy. But at least she's picking on people in her age group this time," one person tweeted.
Another person said, "I thought he said he wanted more positivity in his life…"
Some people just think Tommie is silly and are making her the butt of the joke for trying to flex with Tamar's ex.
"She's flexing the yt community baby daddy… oooh what a prize! What a flex!" one wrote.  As someone else commented, "He looked like oops this wasn't supposed to be filmed girl you ain't eating it's giving sex worker."