Cannabis
Mephisto Genetics, high-quality automatic genetics- Alchimia Grow Shop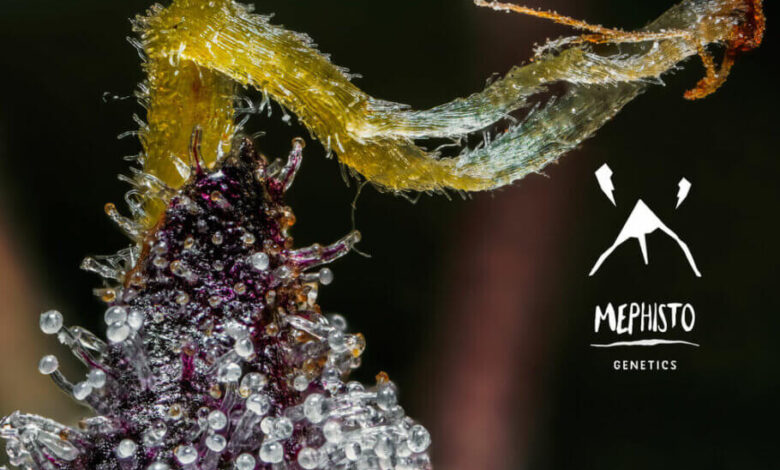 In a corner of the United Kingdom, in 2012, a cannabis seed bank was born that would forever change the game of breeding quality genetics in British lands, although it did not take long to become known in other areas of Europe and America. This seed company, known as Mephisto Genetics and one of the most recent additions to the Alchimia catalog, has left an indelible mark on the British cannabis industry with its innovative approach and tireless dedication to creating elite automatic genetics.
Today we want to immerse ourselves with you in the fascinating world of Mephisto Genetics, exploring its history, its breeding philosophy, and the iconic strains that have catapulted this bank to the global forefront of autoflowering cannabis genetics. From their commitment to quality to their passionate community of growers, discover how Mephisto Genetics is cultivating the future of cannabis and setting a gold standard in the world of cannabis seeds.
Origin of Mephisto Genetics
During the rainy British summer of 2012, two friends and cannabis breeders decided to start a curious competition: see which of the two could achieve the greatest weight in buds in the shortest time possible and with identical growing spaces. Despite using a good number of different plants, the truth is that at the end of their competition, none of them were too happy with the quality of the flowers of their automatic plants. Thus, these two colleagues soon set themselves a new challenge: creating a seed bank that offered authentic quality auto-flowering seeds. Mephisto Genetics was born.
After changing countries to be able to carry out its activity in a somewhat safer way, Mephisto focused on its main objective, which was none other than to create high-quality, high-yielding auto varieties based on some of the most famous and appreciated photoperiod strains. Both founders are proud to be the only ones who touch the seeds they offer, in a process carried out exclusively by them; From cultivation, pollination, seed harvesting, or packaging, the two Mephisto breeders are the only ones to come into contact with the seeds.
Mephisto Genetics Strains
As we have already told you, the guys at Mephisto wanted to specialize in the development of high-performance auto-flowering cannabis plants, but without forgetting quality, as it could not be otherwise. To do this, they start from legendary genetics such as Girl Scout Cookies, OG Kush, Livers, or Chemdog, to name just a few, which are crossed and worked for generations to achieve the auto-flowering trait along with the best of the photo-dependent parent, thus giving rise to auto plants with vigorous development, great production of buds, and very similar quality to that of the original parents. These are some of their most interesting varieties:
Forum Stomper Auto
This spectacular genetics is born from crossing the famous Forum clone of Girl Scout Cookies with Sour Stomper Auto, which results in especially fragrant plants, with excellent production and, above all, with a complex and very intense flavor. Without a doubt, it is one of our favorites in the Mephisto Genetics catalog, because, in addition to its flower quality, it produces first-class extracts, with a very good return and organoleptic properties that will leave you speechless, especially if you work with fresh plant material.
Forum Stomper Auto needs a complete cycle, from birth to harvest, of between 65 and 75 days whether it is an outdoor or indoor crop, for which a photoperiod of 20/04 is recommended. Like the rest of the Mephisto varieties, you will find it in our online store in the format of 3 feminized seeds per package.
In addition to aroma and potency, Creme de la Chem flowers from Mephisto Genetics have excellent bag appeal
Livers BX1 Auto
If you ask any British cannabis fan about mythical marijuana plants in their homeland, they will probably start with Cheese and Livers, two plants that have been giving joy to their followers for decades. Livers, also known as Blues or Blues Livers, is also the result of a selection of Skunk #1 carried out at the end of the 80s of the last century, a productive Skunk and very rich in nuances in its aroma and flavor, which makes it one of the favorite delicacies for commercial growers.
In addition, Livers BX1 Auto is relatively fast for an auto of this level, needing only 65-70 days to complete its full cycle. Its powerful effect (around 20% THC) becomes evident after a few puffs both mentally and physically, with a deep feeling of relaxation in the body accompanied by a fun cerebral high.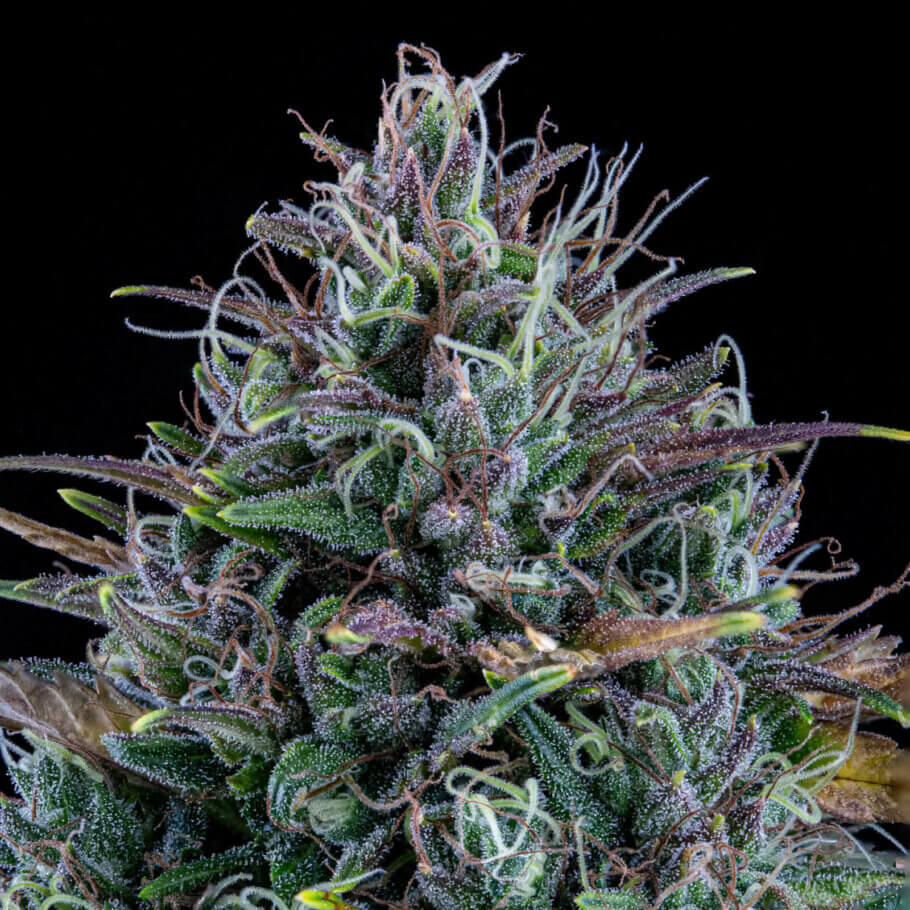 The flowers of Livers BX1 Auto have beautiful violet colors during flowering
Creme de la Chem
By now, you surely know the Chemdog variety and how it has influenced the development of dozens of new hybrids over the last few decades. Well, Creme de la Chem is a hybrid between the Illuminati clone of Stardawg (basically, a work of different Chemdog lines) and Chemdogging, which is, in turn, an auto-flowering version of the famous Chem D clone developed by Mephisto.
The effect of this genetics is very intense, deeply relaxing, and ideal for combating anxiety or stress. Its flavor, as it could not be different, is a powerful mix of chemical and fuel notes, with floral and spicy nuances. A true pleasure for the palate that you can taste after about 70 days of patient waiting.
Chemdog is probably the cannabis strain that has most influenced the seed market in recent decades. Born almost by chance, this variety has not only become a reference in its own right but has also been used as a parental for the creation of countless strains that have now become true classics. Here we'll tell you all about Chemdog and its origins.
Mephisto's Wedding Auto
If you are a follower of our Blog, you probably know that Wedding Cake is one of our favorite varieties. Well, at Mephisto they have started from this excellent plant to cross it with Double Grape, later hybridizing the result of this cross with their Creme de la Chem, another excellent work carried out, as you already know, from the legendary Chemdog. Thus, Mephisto's Wedding Auto stands out for its extremely high performance and its flavor and aroma, which mixes notes of gas, vanilla, and grape in a truly exquisite combination.
Its complete cycle, from birth to harvest, is about 75 days, a more than reasonable period if the final yield and quality of the flowers obtained are taken into account. A true treasure in an auto-flowering format that you can now enjoy in your garden!
Watching Mephisto's Wedding Auto up close is a true spectacleThe ones we have seen in this article are just some examples of the Mephisto genetics that you can find at Alchimia. We recommend that you go through our website and calmly look at its catalog, we are sure that you will find a strain that catches your attention and will make you happy for the next few months…among so many possible candidates it would be very difficult not to do so!
Happy harvests!
The articles published by Alchimiaweb, S.L. are reserved for adult clients only. We would like to remind our customers that cannabis seeds are not listed in the European Community catalogue. They are products intended for genetic conservation and collecting, in no case for cultivation. In some countries it is strictly forbidden to germinate cannabis seeds, other than those authorised by the European Union. We recommend our customers not to infringe the law in any way, we are not responsible for their use.