Black Business
Owner of Houston's Turkey Leg Hut Denies Owing $1.2M In Unpaid Groceries Despite Lawsuit Claim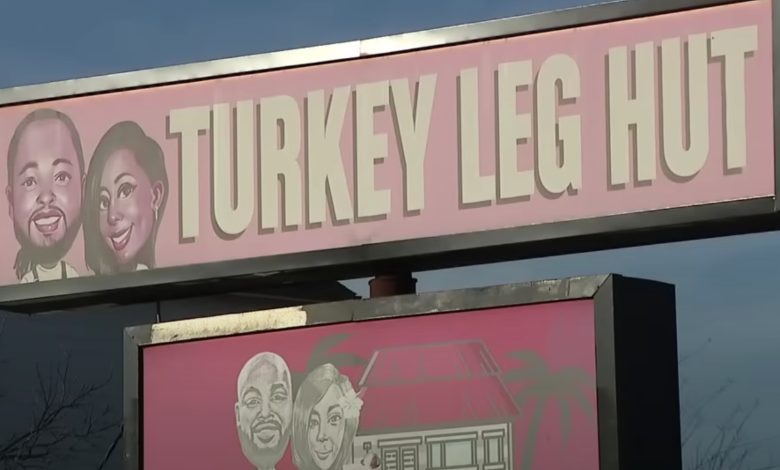 A popular Houston restaurant is being sued for more than $1.2 million by its food supplier, US Foods.
The lawsuit was filed against Turkey Leg Hut on Almeda Road on Dec. 2 for an alleged unpaid balance.
According to Fox26 News, US Foods has alleged in court documents that they are owed $85,106.17 in unpaid produce bills by the eatery. The lawsuit also claims that the restaurant agreed to pay 1.5 percent interest monthly on the unpaid balance until it was paid in full. US Food is also requesting the eatery pay the attorney fees, which would bring the total amount of the lawsuit to $1,288,583.12.
The lawsuit comes as a surprise to many as the popular restaurant often has lines going out the door. US Foods reportedly began doing business with Turkey Leg Hut in 2020. The lawsuit claims that between May 2022 and September 2022, the restaurant ordered and received produce worth $85,106.17 that was never paid for. Husband-and-wife owners Lyndell "Lynn" Price and Nakia Price are named in the lawsuit.
Lyndell Price responded to the news with an Instagram post claiming they do not owe US Foods the funds.
"If you're going to tell the story, tell the whole story," he wrote. "Understand this comes from a PR lady that's hurt and also ex-employees that are really hurt because of not being a part of the brand .. understand check the track record and we have paid taxes etc on time 100k a month and payroll 85k a week and never missed a beat."
Furthermore, he claimed that US Foods owed Turkey Leg Hut money for advertising.
"@us_foods owed us money for advertising etc on trucks IG and all .. it's always 3 sides to a story .. and their side ain't the truth.. why would a company let a bill get that high, 'cause they did not at all," he concluded.
One customer told Fox26 that the claim by US Foods seemed far-fetched. "That's a lot [of money]," said the customer. "I'm not saying it's a false claim, but it is far-fetched."
The owners also received support on Twitter.
"That's embarrassing, I hate this look bc blk ppl already have a hard time being taken serious when it comes to opening businesses for this type of reasoning.. all the customers they be getting ain't no way they couldn't have been making payments," wrote Twitter user, @yodaddiehouse.
"Oh noooo. I hate to see that. I hear it's very popular! Not sure about the legs, but they say the lines be long so I figured it's really good and black-owned. Hope the best for them," @PaulaKeys142 wrote.
The popular restaurant has become a staple in the city's Third Ward. Nakia Price told the Washington Post that they began selling turkey legs at the rodeo in 2016.
"We were cooking turkey legs on a pit," she said. "The main goal at that point was to shuttle people in the rodeo. We had people who were coming to eat instead of going to the actual rodeo, and it just ballooned and took off."
Social media helped the Turkey Leg Hut expand, and they opened the restaurant's first location in 2017, but the eatery serves more than turkey legs. They also serve dishes such as crawfish macaroni and cheese, alfredo shrimp, jerk chicken tacos and turkey chili.
A $100,000 lawsuit was filed in 2020 by a third owner, Steven Rogers, for breach of fiduciary duty and self-dealing, fraud and conspiracy to commit fraud. Lynn and Nakia Price filed a countersuit seeking injunctive relief and denied the allegations. They alleged that the lawsuit was a "desperate move to squeeze money out" as they were negotiating to buy Rogers out.
The eatery was also sued by residents of the Third Ward in 2019 after they claimed Turkey Leg Hut was a public health risk, but the suit was later suspended to "give its owners a final chance to immediately address the public health, nuisance and regulatory issues."
The restaurant also faced controversy when it began charging $100 for reservations. One person on Twitter summed up the sentiment of many when they posted, "Turkey Leg Hut requires a $100 deposit via cashapp & a signed contract? Houston we definitely have a problem."