Markets
UFC President Dana White Slaps Wife At Nightclub On Video, Shares Of UFC Owner Endeavor Decline 6%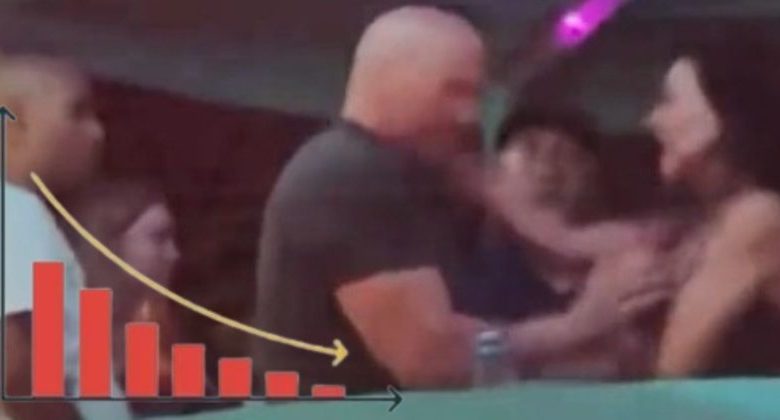 Ultimate Fighting Championship President Dana White, who has decades of experience as a fighter and trainer, slapped his wife during an incident on New Year's Eve in a Cabo San Lucas nightclub and a video of the incident went viral. Shares of UFC owner Endeavor fell on Tuesday.
The video, which got more than 8.9 million views on Twitter @FullCombat_ was obtained by TMZ. It showed Dana and Anne White appearing to argue. Ann slapped him, he slapped her back, and she appeared to be knocked down.
Dana White apologized publicly on Monday, saying "there is no excuse" for the violence, which he said was fueled by alcohol. Anne also apologized separately in a statement to TMZ, saying it was an isolated incident. The couple has been married for 26 years.
Shares of media and entertainment company Endeavor closed down nearly 6 percent Tuesday.
Dana White has spoken out about domestic violence before and has said the UFC screens people for domestic violence, CNBC reported.
After former NFL running back Ray Rice was charged in 2014 with assaulting his fiancee, Dana White said you "don't bounce back from putting your hands on a woman," according to media reports. "Been that way in the UFC since we started here."


Black Americans Have the Highest Mortality Rates But Lowest Levels of Life Insurance
Are you prioritizing your cable entertainment bill over protecting and investing in your family?
Smart Policies are as low as $30 a month, No Medical Exam Required
Click Here to Get Smart on Protecting Your Family and Loves Ones, No Matter What Happens

Rice played in the NFL for six seasons until 2014 when a video surfaced of him attacking his then-fiancée after a night of heavy drinking. TMZ released that video as well. After being indicted for aggravated assault, Rice was released by the Ravens and suspended indefinitely by the NFL. Rice successfully appealed the suspension but the incident effectively ended his professional career. No teams signed him in free agency.
Here's a brief history of Dana White's years of experience as a fighter and trainer: White began boxing at age 17, and befriended former Golden Gloves champion Peter Welch. He decided he wanted to be in the fight business and started a boxing gym in Boston with Welch. White intended to become a professional boxer but was put off after seeing a boxer with brain injuries and worried that he would suffer the same fate. Instead, he became a boxercise coach, ran boxercise gyms in Las Vegas, and began jiu-jitsu training alongside brothers Lorenzo and Frank Fertitta. In 2001, White and the Fertittas acquired the UFC for $2 million, and White was installed as its president.
Endeavor, run by Hollywood powerhouse Ari Emanuel, took full ownership of UFC in 2021, the year Endeavor had its initial public offering, according to a securities filing.
White is credited with helping UFC grow from a small enterprise to a multi-billion dollar business. White's net worth as of August 2022 is an estimated $500 million.
"You've heard me say for years, 'There's never ever an excuse for a guy to put his hands on a woman,' and now here I am on TMZ talking about it," Dana White said.
He told TMZ he was embarrassed by this "horrible" incident, and that he and Anne apologized to each other. He said they're "good."
Twitter users had a lot to say about the incident, such as, "She hit him first it's self defence," and "You're completely right bro. You can clearly see he was in fear for his life. I hope he recovers."
Image: Screenshot from video released by TMZ, https://www.tmz.com/2023/01/02/dana-white-wife-drunk-fight-slap-new-years-eve-nightclub-cabo/