Black Business
Young Founder of Black-Owned Custom Jewelry Store Makes History as the "Engagement Ring Queen"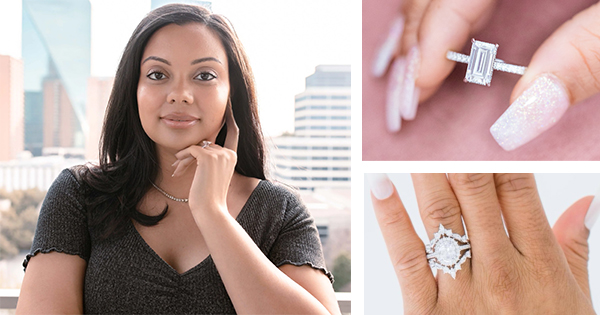 Meet Jasmine Carter, the 29-year-old founder and CEO of Balacia, a Black-owned custom jewelry brand she started six years ago. She is called the "Engagement Ring Queen" because she has successfully introduced a simple and hassle-free approach to purchasing jewelry.
Her unique way of doing business has allowed her clients to bid farewell to overwhelming choices, confusion, and price gouging, as Jasmine is focused on making the process as effortless and enjoyable as possible. With a unique blend of innovation, creativity, and unparalleled customer service, her company's amazing reviews showcase that she offers an unforgettable amazing jewelry shopping experience.
Black-owned custom jewelry store
With a commitment to meeting individual tastes and preferences, Jasmine offers a bespoke jewelry service with her brand Balacia, allowing clients to bring their unique visions to life. Whether it's a custom engagement ring, a sentimental necklace, or a one-of-a-kind statement piece, this talented designer turns dreams into reality.
Moreover, Jasmine understands the significance of ethical and sustainable practices in the jewelry industry. Every piece is crafted using responsibly sourced materials, ensuring the utmost respect for both the environment and the artisans involved in the process. With Balacia, clients can indulge in luxury without compromising their values.
Designer engagement rings and wedding bands for women and men
With its disruptive approach and dedication to customer satisfaction, Jasmine works one-on-one with her clients virtually to design their dream jewelry within their budget, using perfect quality stones and designer-quality settings.
"Engagement ring shopping is so overwhelming for most people. A lot of people go store-to-store trying to find a ring, or spend months researching diamonds to try to choose a good one. I try to take away all of the stress and keep the fun in the ring shopping process! All people have to do is message me an idea of what they want, any custom ideas they have (if any), and a budget, then I will show them the best stone (diamond, moissanite, etc) and design options in their budget. I'm the jewelry expert so my clients don't have to be. I offer a jewelry concierge experience so everyone gets my undivided attention to bring their visions to life," she comments.
Perfect quality natural diamonds, lab-grown diamonds, moissanite, and other gemstones
"Most jewelers are men, but I design engagement rings as a woman with women in mind; I always make sure their diamonds are colorless and flawless (eye-clean) so she can have a jaw-dropping ring to show off for a lifetime. My clients will never need an upgrade because their rings have the highest quality stones, and their settings are perfectly handcrafted," said Jasmine.
With a passion for celebrating love stories and a keen eye for detail, Jasmine brings a fresh perspective to the world of fine jewelry. Each piece is carefully curated and meticulously crafted to capture the essence of love and individuality, ensuring that every customer finds the perfect symbol to commemorate their unique bond.
"The custom element just adds to the story of her ring. When you place an order with Balacia, we make it to order so your ring is literally made for you and we put love into every piece we create," said Jasmine.
What sets Jasmine apart is her unwavering commitment to inclusivity- she believes that every couple deserves to express their commitment in a way that resonates with their personal style and budget. Whether it's a classic solitaire, a vintage-inspired piece, or a modern design, Balacia offers a diverse range of engagement rings, chains, pendants, and other fine jewelry that caters to every taste and preference.
Best-rated jewelry store for customer care and quality
Jasmine's knowledgeable team takes the time to understand each customer's vision, guiding them through the process of selecting the perfect piece to reflect their love story. It's no surprise that Balacia has received 100% 5-star reviews.
In addition to her dedication to incredible design skills and customer service, Jasmine is committed to giving back to the community and is partnering with nonprofits for charity jewelry collections in 2024.
As Balacia continues to make waves in the industry, its mission remains clear: to create timeless pieces that capture the essence of love, celebrate individuality, and break barriers. Her band is poised to become a leading force in the world of fine jewelry and engagement rings.
For more details and/or to support her company, visit its official website at Balacia.com
For press inquiries, contact 469-629-8412 or info@balacia.com