Fashion
Awareness of Climate Change-The Power of TV-Stories Are the Fix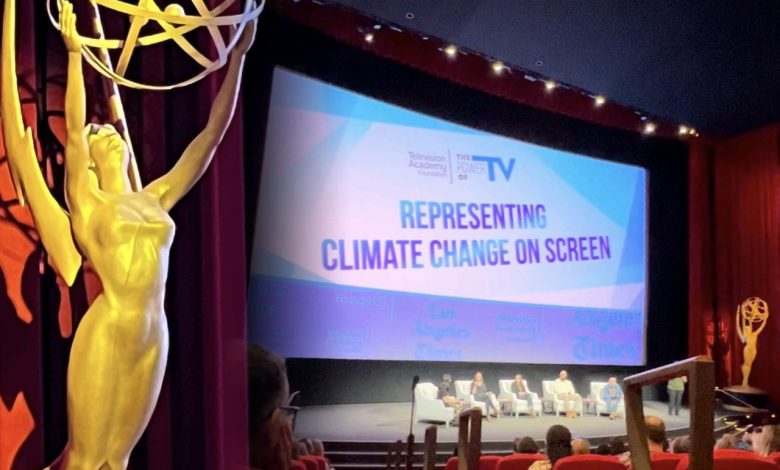 DID YOU KNOW? The National Oceanic and Atmospheric Administration's National Centers for Environmental Information state that in 2021 alone; 18 climate-driven weather disasters struck the U.S., killing over 380 people. Moreover, according to an additional study in 2021, "About 85% of the world's population is already being affected by human-driven climate change." Yes, just about everyone alive today on this planet can stand to hear more awareness of climate change. Why?
According to NASA's official climate website there's still time for us. NASA says, "It may not be too late to avoid or limit some of the worst effects of climate change." The real test will come if more people get on board to try to help do their part to get our environment more healthy. The easiest way for this to happen is if the right information, can quickly be able to reach the right people in a way that is appealing and extremely informative.
What better channel to do this than TV as well as film? In regards to this, the Television Academy Foundation put on another thought and emotion invoking event that approached this subject head on. There needs to be MORE. More stories, characters and settings that help prepare, confront and get individuals working towards a solution for climate change.
You would think such a subject would be popular and relevant in TV. It is not. In fact, it's barely ever even a slight mention of it in any show or movie.
For instance, there are thousands of films and  shows that have come along; however, less than 0.6 percent of scripts have included the term "climate change." Which shows that this topic is clearly missing from scripted television as well as film content. Therefore, it is not being written in for audiences to consume. It is time for a change!
Awareness of Climate Change-The Power of TV-Stories Are the Fix
The Television Academy Foundation's Cris Abrego (Executive Committee Chairman); kicked off today's event by mentioning that we sit at the epicenter of power (in reference to the entertainment industry). Storytellers can seize their power and bring awareness to a plethora of issues and topics such as climate change.
Anna Jane Joyner shares the same sentiments. Joyner is the founder and CEO of Good Energy and encourages her colleagues and those in entertainment to get in the ring. She says don't be afraid to take on climate stories. Although, she does recognize it is a challenging storyline to tackle. Why is that?
Anna Jane goes on to say it is because to audiences it is often overwhelming and depressing to face troubling or sad realities. So then, it can be courageous on the part of producers, writers and the like, to try and face presenting such a dramatic story to viewers.
Nevertheless, it has to be done. Anna Jane says that one of the best ways to fight climate change is to talk about it. If everyone is silent, there will be no movement or actions taken. We can't change history that got us all into this mess; but we can figure out how to learn from the past and do better.
Furthermore, we often talk about how to save nature from people. However, the discussion should be how people can simply save nature. Bad habits do exist, but if some can be moved to change their ways through the eyes of film or a show character that did the same; then mankind might be able to move the needle towards a more balanced environment.
Awareness Climate Change: Television Academy Foundation Power of TV: Representing Climate on Screen
Scott Z. Burns, an award-winning director and producer (Apple TV+ series Extrapolations/ Contagion); recognizes the importance of getting audiences to relate to climate change on a personal level. He says when writing his show (Extrapolations) he didn't want to put the setting so far into the future that viewers could not connect. He desires viewers to not only connect, but also feel that climate is a real issue that will and is effecting several generations even now. Scott also says that another way to successfully battle against this global foe is to utilize community.
Community is full of individuals with various ideals, attitudes and interests. However, such differences can help shape, bring fresh ideas; and develop solutions to get climate change out the negative and more into the positive.
Furthermore, any community can get in on all the action. Any community is in a position to help make a change. This is well demonstrated by what panel member Peter Saji reveals about his show.
Peter Saji (Co-Creator of Mixed-ish) says his show experiences success with spreading awareness by using real life examples and history. For example, when making an episode of Mixed-ish which is set in the 80's; one climate issue at the time was the dissipating ozone layer. Back then, the situation looks quite dire. However, once awareness is more widespread, things change. How?
While conducting research for this episode, Saji states that people becoming aware about climate issues in the decade of excess, brought on positive changes. Harmful products go in the trash. Citizens become more conscious of bad habits and researchers say these actions move back impending damage by 7-10 years! This shows that using media and entertainment to get helpful information out to the masses can definitely bring about positive outcomes.
How to Raise Awareness for Climate Change
Therefore… the question remains… if the television industry can bring about such changes; why doesn't more shows cover this topic? What is holding the entertainment industry back from doing more climate control storytelling? Meredith Milton, creative director of the NRDC's Rewrite the Future initiative has some thoughts.
Meredith says the problem could lie with some old school bias. Perhaps writers, producers and studios feel as though such stories are boring or not "commercial enough. Is that true? Not really.
Meredith went on to talk about the box office hit, Day After Tomorrow starring Dennis Quaid and Jake Gylenhaal. Another example might be 2012 (although this film corresponds with the Mayan calendar; not exactly climate issues). Nevertheless, both movies demonstrate that audiences can get into stories that show the environment going haywire for various reasons.
So then, there is some proof available to convince entertainment companies to green light more climate TV episodes and movies. To take up the challenge to spread awareness with compelling, entertaining stories. Audiences CAN get into such subject matter and moved to action. And getting viewers involved is the best and fastest way to get to them. That's the Power of TV.

**Want Even More Beauty, Lifestyle, Hair, Fashion as well as Celebrity Style Sighting News, Insights as well as Trends? Well Honey do we have something special for you! Slide on over to our TikTok or Inspo filled Pinterest! Click HERE**
Thoughts on Awareness of Climate Change-The Power of TV-Stories Are the Fix? Well let's connect then! We're always around and love to hear from you. Therefore, join the discussion and talk all things 1966 Magazine; fashion as well as celebrity style sighting related with us by dropping a comment like its hot down low. Or also hit us up on our TikTok, Instagram (1966mag); Tumblr, Pinterest or tweet us @1966magazine.