Fashion
Black Girl Fashion -ALL the LATEST Looks and MAJOR Trends!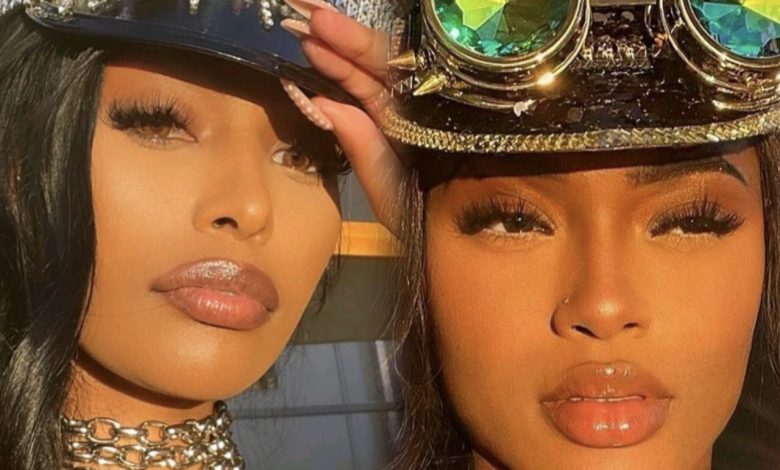 Black Girls and Women are the Moment, the TREND and the Plug for knowing and wearing the hottest style of any time! If you are a real style DIVA then this Black Girl Fashion page is for you Honey! We are fashion culture so it is about time to have an ultimate page paying homage to our magnetic, dramatic, and mesmerizing style tastes. Bookmark this one y'all, because it will be updated daily!
When your fave wears an outfit that you like, check here, because we will reveal the designer and trend in real time for you! We have been getting so many requests to start this in-depth fashion post; so enjoy it LOVES and hit us up on social media to tell us which LOOKS you are feeling and must-have. Blessings and Fashion Beauties!
Black Girl Fashion -ALL the LATEST Looks and MAJOR Trends
You know you are stunting on them when you are literally wearing yourself! Beyonce covers one of the biggest magazine issues of the year; the September 2021 Harper's BAZAAR Icons edition; in several designs from her collaboration with Adidas. All of these two looks are from the IVY PARK RODEO release.
Denim is a great fabric that can be dressed up or down. It can look edgy or light and fun. Moreover, what's great about denim looks, that sometimes gets overlooked, is how slimming jeans can be. Look for darker "rinses" to give your physique a more slender appearance.
Photography via: Ivy Park
Monica Denise is rocking this blue like nobodies business! The iconic "Boy Is Mine" singer is wearing a cobalt blue look by luxury fashion house, BALENCIAGA. She finished off her look with chic designer shoes by Jennifer Le.
Solid color dresses are great for anyone who is all about "no fuss" styling. There is no real matching skills necessary to pull the look off. Just be sure to accessorize wisely with your shoes and jewelry to really take the look next level.
Photography by: Cyndi Brown
Megan Good will NEVER stop being fine! The talented actress posted up on Instagram to say she turned the big 4-0 and officially won the Black Don't Crack Award (Lol). Megan wears a SUPER CUTE BOB HAIRCUT with a sparkling jumpsuit design by Albina Dyla, a fashion label based in Kosovo.
Glittering dresses are great for huge events and for those who love to stand out from a crowd. However, be careful not to over accessorize with your jewelry pieces. Sparkle layered on top of more sparkle can sometimes compete for the spotlight. Therefore, pair your jewels carefully so that your entire outfit looks seamless and not too busy.
Photography by Dewayne Rogers
Trust us… Neon color tones are still trending and in hot demand. Case in point, hip hop artist Cardi B. The fashion forward entertainer edged up her stylish Alyx Studio Dress, with a cute pair of neon accented Bottega Veneta boots. Who says pregnancy has to be moo-moos and boring?
The way Cardi B is doing her styling here is perfect for someone who likes color, but does not want to look like a packet of Skittles. With neon colors, a little can go a long way. So have some fun incorporating little hints of color into your outfits. The result will be worth it!
Photography via: Cardi B Insta
Black Women Fashion -More Trendy Black Girl Fashion for You!
Yes the bag still matters! While we love a full white outfit, Jordyn Woods proves that a handbag can still be the main star of any ensemble. Woods looks extra expensive with a luxurious Hermes Birkin bag.
While not all of us will be able to afford or even get our hands on a Birkin (yeah, there's a waiting list Ladies); there is a styling tip here that still applies. Woods bag is in a neutral color shade. This is so important because this allows the bag to match countless outfits, instead of a select few.
If you are ever wondering how to get the most mileage out of a bag, always take into consideration what color you are buying. Try to include browns, nudes, black, gray and navy in your handbag collection in order to match well with your clothes.
Photography via: Jordyn Woods Insta
Good is still out here looking good! This time Megan indulges in the pink, rosy tone trend with couture design by London Couture Studio. This fashion brand is located in Atlanta, Georgia. London Couture refers to this particular pink look as "Ms. Nicki."
We are so used to bodysuits looking like our grandma's 80's leotards. However, body suits are being re-imagined with more structure and haute couture tailoring. We love Megan Good's "exaggerated" sleeves. Still has a very retro touch (yup… still referring to the 80s, hello shoulder pads), but looks fabulously modern. Plus, warm pink hue is effortlessly ethereal. A great color when you want to feel feminine and pretty!
Photography by Dewayne Rogers
Uhm.. WOWWWWW! Like… what a vision! Jennifer Hudson takes all breath away in a dazzling and shimmering custom Dolce and Gabbana gown. The royal purple dress includes a ruched bust with lengthy magnificent train. Hudson finishes her red carpet look for the premiere of her long-awaited "Respect" (Aretha Franklin biopic) film; with BVLGARI jewelry and Christian Louboutin shoes.
Purple is a wonderful shade to include in your wardrobe because it easily conveys luxury and elegance. It's a color many royals wear because it screams opulence. If you do not have much purple in your closet, try having at least one purple statement piece to turn heads in.
Photography by Eric Charbonneau of Le Studio
**Want Even More Fashion, Beauty, Lifestyle, Health as well as Celebrity Style Sighting News, Insights as well as Trends? Download Our New Shiny App! Click HERE**
Thoughts on Black Girl Fashion -ALL the LATEST Looks and MAJOR Trends? Well let's connect then! Join the discussion and talk all things fashion as well as celebrity style sighting related with us by dropping a comment like its hot down low. Or also hit us up on our Facebook, Instagram (1966mag), Tumblr, Pinterest or tweet us @1966magazine.