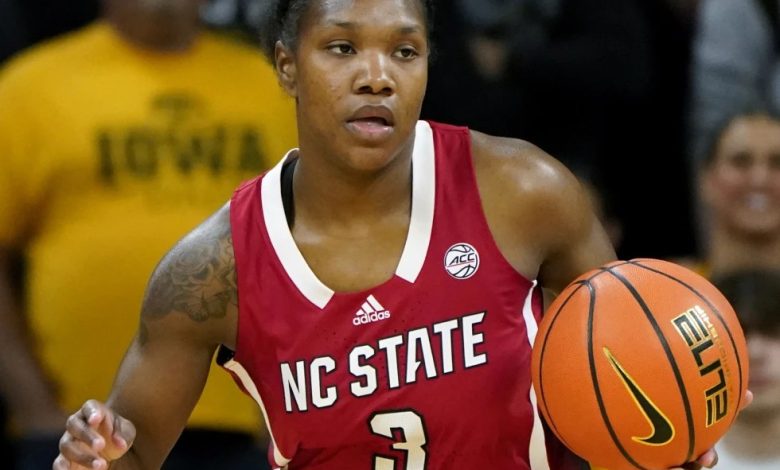 NORFOLK, Va. (AP) — Diamond Johnson was all smiles, even after a long practice that involved lots and lots of running — up and down the court at Echols Hall, and even up and down the steps of the 4,500-seat arena because coach Larry Vickers thought focus was lacking.
"I think I found the place for me," she said before hopping on an exercise bike for another 20 minutes of work.
She is far from the only one excited. Vickers, who said he dances whenever a recruit commits to the Spartans, said "it was a longer song" when that player was Johnson.
The Spartans will be Johnson's third team in four years, and bring her back to the area where her love of basketball blossomed, making her one of the top recruits in the 2020 class.
She started at Rutgers and was voted second team All-Big Ten as a freshman after averaging 17.6 points. She transferred to North Carolina State and was the ACC Sixth Player of the Year as a sophomore, then led the Wolfpack in scoring last season (12.3 points per game) and made the All-ACC second team. The point guard, as adept at wraparound passes as she is scoring, was on player of the year watch lists.
It's rare that a player with a raft of accolades and professional aspirations leaves a Power Five school for an HBCU or really any school at a lower level, but as Johnson said in announcing her decision — and as Vickers say he confirmed with scouts — playing for Norfolk State is unlikely to negatively impact her pro dream.
The Spartans are coming off their best season since stepping up to Division I in 1997. They went 26-7, won the Mid-Eastern Athletic Conference regular season and tournament titles. They drew No. 1 seed and defending national champion South Carolina in the NCAA Tournament, losing 72-40. Afterward, Gamecocks coach Staley said the team that led the nation in scoring defense (50.7 ppg) and field-goal percentage defense (31.5) should not have been a No. 16 seed.
That's not unusual for a team from the MEAC, but Johnson was undaunted: "These schools actually fit my style. I see the players getting better. They can coach. I'm basically from Virginia, too. Been here since I was in fifth, sixth grade. This is where I started playing."
Vickers, entering in his eighth full season, knew Johnson from her AAU days and got to know her better when Johnson would come work out at the school during the COVID-19 shutdown.
When she expressed an interest in the Spartans, he didn't let his need for her to fill a void in the lineup supercede his desire to make sure she knew some things would be different.
"I was kind of a little critical of her game in some aspects, and I don't think she was expecting that," he said. "I think she was expecting me to say 'you could come here and shoot the ball every time' and that's just not the kind of person I am. So I felt like she felt like she could get better here as well as, you know, get us out of the first round. And I know that's a goal of hers."
The Spartans have several other transfers from higher-profile programs. Graduate student forward Paris Mullins came from McNeese State after starting at Auburn. Junior guard Da'Naijah Williams came from St. John's. Graduate student guard/forward Danielle Robinson came from Seton Hall. Redshirt freshman forward Skye Robinson spent a year at VCU.
They all hear the same thing when they meet with Vickers.
"The first thing I tell them is, 'Hey. We don't fly private. If it's under 400 miles, we are getting on that bus,'" he said, laughing. Johnson's response? "I don't even like to fly," she said.
The team is thrilled to have her. Two of their top three scorers last year were graduate students, so adding a player with Johnson's resume was critical to building on last season's success.
Kierra Wheeler, the top returning scorer and low post presence, figures to benefit plenty from Johnson's ability to drive and thread passes through the middle for easy baskets. She averaged 11.1 points and 8.4 rebounds and said she's lost nearly 40 pounds to get better.
"Having Diamond coming in is actually amazing. We never had that before, but I think that opens up the world to really the MEAC and showing them what we bring to the table," Wheeler said.
And all the running in practice? More than anything, it can only help defensively.
"Of course we're tired," said Wheeler. "But every other team is tired in the country, so we've got to separate ourselves."
Williams has become a big fan of the defensive focus, and results, especially late in games.
"Just keep pushing at their throats," she said. "That's always going to be the good part of being conditioned. If they get tired, they're going to have to pay in the end."
And perhaps, if all goes well, they'll get a diamond in their championship rings.
TheGrio is FREE on your TV via Apple TV, Amazon Fire, Roku and Android TV. Also, please download theGrio mobile apps today!