Black Business
Lone Black-Owned Oregon Wig Shop Faces Multiple Vandal Attacks; Frustrated Owner Believes It's Racially Motivated: 'It's Just Too Stressful'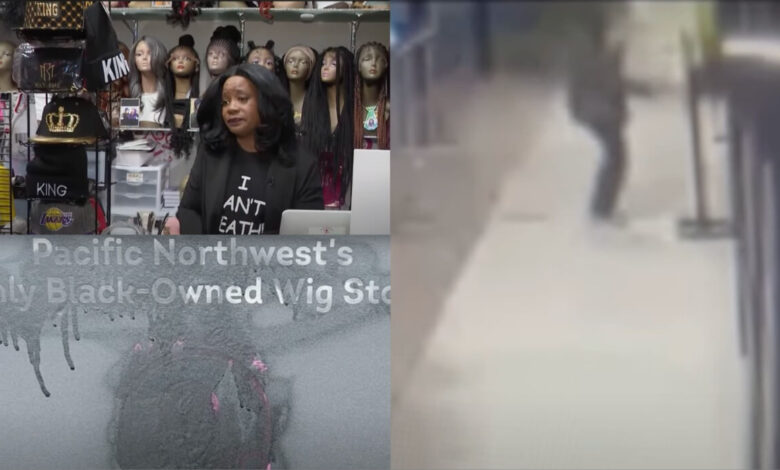 A Black business owner says she believes repeated attacks on her beloved wig shop are racially motivated, leaving her "on edge."
Tralice Lewis is the proud owner of Callie's Custom Hat Wigs in Portland, Oregon, a business that celebrity clients, including comedian Luenell, have supported. Lewis sells wigs for people suffering from medical issues and struggling with self-esteem, along with other products, including blinged-out cups and purses. 
Founded in 2020 and located in Rockwood Market Hall, the establishment is an ode to her late mother, Callie, a hospice nurse who was dedicated to taking care of others for more than three decades, Lewis told Atlanta Black Star in a phone interview on Thursday, Oct. 5. It's also an extension of her daughter, whom she lost a few years ago during pregnancy. The pink logo for her store is deeper than strictly an identifier. 
Trending Today:
"The pink represents my daughter," she said. "I always do something purple in honor of my mom because my mom always wore purple. She always wore a purple lip, and it represents royalty. And me being able to be of service to my community is what helps me be close to my mom because she was such a person who was a caretaker along with myself."
For Lewis, her shop serves as a sanctuary for all people. However, lately, she has felt overwhelmed since her business has been the target of multiple vandalism incidents and online harassment. 
Last month, on Sept. 26, Lewis said a masked perp used black spray paint to deface her logo and the words on one of her signs that says "Pacific Northwest's Only Black-Owned Wig Store." She shared surveillance footage of the suspected vandal in the act on social media. The footage, although blurry, shows the person spraying her property before attempting to open the door. 
"The person who was vandalizing my store recorded himself doing it. I don't know if he was on live and what platform he put that on," Lewis said. "The only reason he stopped spraying is because he ran out of paint."
The latest incident is not the only time Lewis has experienced vandalism. In one instance, she said someone rubbed feces on poles outside her store to prevent her from displaying signs to bring awareness to her store. 
"They've taken to Facebook community groups saying that my store is only for Black people and that they need to bring up discrimination and segregation," she added. "It's just too stressful."
She said the financial burden of having to come out of pocket to cover the damages worsens the situation. Lewis has created a GoFundMe to help her recover her losses. However, the incidents have caused her heightened anxiety and nightmares about vandals destroying everything she built. She took a mental health day on Wednesday to deal with the stress. 
A spokesperson for the local police department told The Oregonian that the agency "will follow the evidence in an attempt to identify a suspect and determine if this was a bias crime."
Despite the negative, Lewis, also a health-care worker, remains motivated to continue her work and maintain her mother's legacy even without making much profit. 
"I stepped out on faith and opened my store to help my community and to help people who were dealing with hair loss and to help build confidence because that's what wigs did for me and for people who are dealing with alopecia [and] cancer," she said.