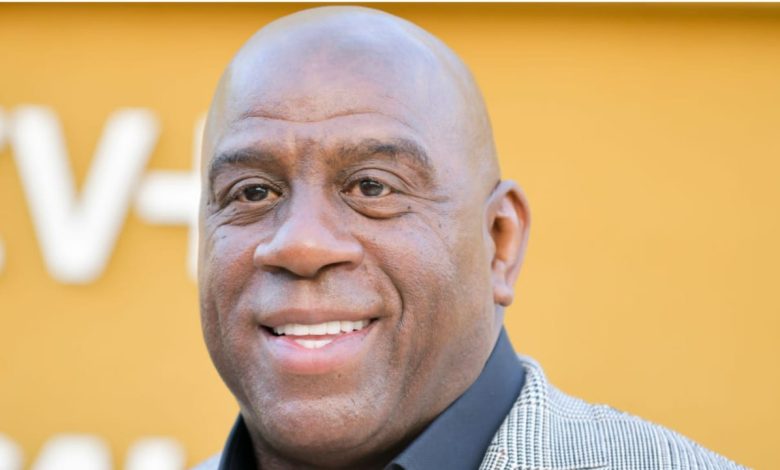 Contrary to what some people may believe, Earvin "Magic" Johnson Jr. has managed to stay healthy — and, more importantly, alive — after disclosing his HIV diagnosis more than 30 years ago, and not with sorcery, but with a rather stringent healthcare regimen.
The 63-year-old NBA legend wakes up before sunrise and follows a rigorous schedule that includes stretching, weightlifting and cardio to start the day, People reported.
"I wake up at four o'clock every morning," Johnson said, according to People. "I love the mornings when it's still. Just really having an hour or two to myself when it's quiet."
Johnson not only prioritizes his health, but he's worked for nearly 30 years to promote public health, with a current focus on those who are older. He has teamed up with GSK to introduce Sideline RSV, a new health education initiative, to better inform older adults about the hazards and possible seriousness of respiratory syncytial virus, or RSV infection, and how they can take preventative measures against it.
RSV is a widespread, contagious and possibly dangerous respiratory virus. Although it is usually mild, older adults may be more susceptible. In the U.S., for example, RSV hospitalizations affect roughly 177,000 adults 65 and older, and about 14,000 cases have resulted in death.
"I'm concerned about the Black and Brown community, and this has affected our communities in a big way," Johnson told People. "RSV is out there in a big way."
The basketball legend is aware of how crucial it is to regularly see a healthcare specialist, noting that he doesn't skip his annual physicals or delay visiting a doctor if something seems off with his health or his body — and he urges others to do the same.
"Early detection saved my life, right?" said Johnson, People reported. "I've been living with HIV now for 32 years, but if I hadn't gone to the doctor, what would've happened to me?"
Johnson asserted that prioritizing the mental health of older adults is also crucial in ensuring their overall well-being. He said it's essential to maintain communication with friends and family members and ensure they do the same, especially as loneliness sets in with older age.
"I'm trying to help people because I've seen it, and I've been there," contended Johnson, noting that he's not just an advocate for health and wellness; he's "living it."
Before his final retirement in 1996, Johnson played 13 seasons in the NBA for the Los Angeles Lakers. In 906 regular-season games, he averaged 19.5 points, 11.2 assists, and 7.2 rebounds, and earned three MVP awards. He also earned three MVP awards in the finals and five NBA titles. He currently owns a minority stake in the organization.
As far as his bedtime goes to get crucial rest, Johnson shared that he usually winds down between 8 and 8:30 p.m. — unless a Lakers game is showing on television.
TheGrio is FREE on your TV via Apple TV, Amazon Fire, Roku and Android TV. Also, please download theGrio mobile apps today!