Black Business
Meet the Black Bartender Turned Pastry Chef Behind the Infamous Cake Martinis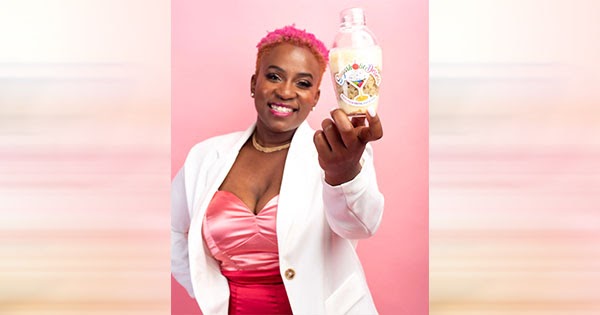 Teasha Chestnut, the founder and CEO of Sugarholic Desserts, is shaking things up in her business starting with her infamous alcohol-infused caketinis (cake-martinis). She plans to do small batch collection drops of specialty dessert boxes with a limited-time order window. The collections will feature the brand's popular selection of individual-sized treats stuffed in reusable shakers with a shot glass.
Originally, Sugarholic cakes were made-to-order to guarantee freshness, but this method of ordering will be discontinued this spring. Taking a page from the beauty industry's well-known brands and how product drops are done, Sugarholic Desserts will be releasing collections for a limited time. This method will allow customers to order small batches through collection releases while preventing food waste. Both collections will feature one flavor, coming with three different flavors in total.
Like many other Black and woman-owned small businesses, Teasha has had to make adjustments to keep the business open. The collection drops are only the first phase in Chestnut's plans to make cakes exciting once again. One element the company has agreed to keep are the reusable shot glass and martini shakers. Containers can be reused to shake up alcoholic beverages or virgin drinks once washed.
Another unique element not being eliminated during the shake-up is Sugarholic Desserts' support of Black-owned products and services such as alcohol/spirits, and product sourcing. Teasha states, "I can not compromise on supporting my own community." In the second collection, named "My Mamma's Box" releasing April 17th, cake tasters will experience how the dessertender combines two Black-owned liquors to make the featured treat. Uncle Nearest Whiskey and Rivulet Liqueur Pecan are the main ingredients to the sweet potato cake aptly named 'Dee's Cake' to honor the founder's grandmother. Solidifying Sugarholic's commitment to championing Black-owned companies.
Teasha's focus on community drives the future of the Sugarholic brand. Plans to expand into live activations via AirBnB Experiences are in the works for early summer after the dual spring collection launches. The founder has not revealed any class locations and dates, but Teasha will teach attendees how to make the same tipsy treats themselves. "Just like our caketinis available for a limited time purchase, I believe the live classes will be ideal for girl's nights, bachelor or bachelorette parties, family reunions, weddings, graduation parties, holidays, and as a gift. Cake and experiences can be for everyone."
Ironically, the creator, Teasha, is not one for heavy drinking. She got her start on the Las Vegas strip as a bartender and pastry chef in hopes of creating a joint venture with her late sister. Pivoting from losing her sister and future business partner, Teasha applied the understanding that every party needed alcohol and desserts and thus decided to infuse the two components into an assortment of classic and unique flavors.
Now, this latest pivot from Teasha will keep seasonally appropriate alcohol-infused treats in one place. Boozy cake lovers will have the opportunity to order the first seasonal collection, 'Spring Fling' box, just in time for spring festivities. The box will be live until March 31st and will feature a lemon cake baked with creamy Limon Rumchata layered between fruity strawberry tequila frosting.
For more details and/or to place an order, visit SugarholicDesserts.com
Also, be sure to follow the company on Instagram @SugarholicDesserts
About
Sugarholic Desserts' breakthrough star, "The Caketini" is a one-of-a-kind creation made up of decadent-infused cake layers and boozy homemade icing nestled deliciously inside a reusable keepsake martini shaker. Each Caketini also comes with a specialty drink recipe card which allows customers to extend their experience long after their last bite. The proof is in every bite. A harmonic blend of spirits and sweet decadence that allows you to "have your drink but eat it too!"
For press inquiries, contact info@sugarholicdesserts.com