Black Breaking News
Reginae Carter Shares Advice on How to Date a Partner with Kids, Fans Bring Up Her Ex YFN Lucci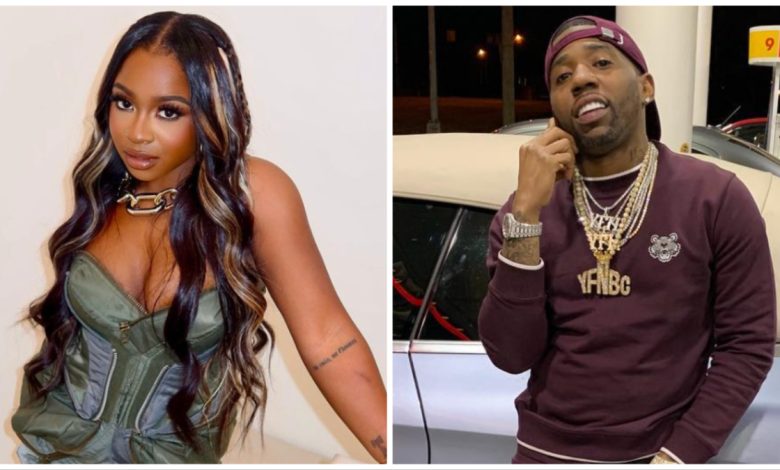 Reginae Carter is giving out some sound relationship advice to her fans.
The 24-year-old was recently on Live answering fans' questions when a person asked how one can manage to be in a relationship with a partner that has a child with someone else.
She does not have any children herself, but she is currently dating singer and Youtuber Ar'mon Warren, who has a 3-year-old daughter with his ex-girlfriend Esmeralda Senia Mariee.
Part of the question was cut off in the clip, but Carter can be heard saying, "How do you deal with the other parent?"
She quickly answered the question, saying, "My advice would be just be level-headed in the situation. Always remain respectful because at the end of the day when it's a kid involved it's not about nobody but the kid."
Taking a few more seconds before responding, she said, "I would say just stay in your lane as much as you can. Like, you know, as time goes on, like, you know, when things evolve — like, say, for instance, if marriage come in the picture or if you have a kid — like, it'll be different."
"But, like, if you're dating someone with kids you know stay in your lane, respect all parties," Carter continued. "Be there for your man or your girl if it's a female or a man. But yeah, just support them in any way that you can."
The clip from Carter's Live was shared on TikTok, where fans praised her "mature" response in the comments.
"Wow perfect advice…super mature woman as a woman if this ain't what you tryna be on then don't date men with kids."
Another noting that her father, Lil Wayne, has four children with four different women, said, "I feel like she's had great examples in her life from her dad, he has BMS but they all seem to get along and don't take it out on the kids."
Someone else reminded fans that this was not Carter's first time dealing with a man who had children from a previous relationship. "They acting like armon is the first person she dated w/a kid lucci has kids too when they dated,' wrote a third individual.
Carter's relationship with Warren may come as a surprise to some fans. In 2020, she swore off having any dating ties with men who had kids. In a since-deleted tweet, she said, "I'm done dating n–gas with kids . it be the bm/bd love for me keep that s–t away from me lol."
Before coming out publicly with Warren last September, the founder of "I Fit IN" fitness brand was in an on-again-off-again relationship with Atlanta native YFN Lucci from 2018 to 2021. The rapper, who is currently in jail awaiting trial on a RICO indictment, has four children with three different women.
Many were vocally unsupportive of Carter's relationship with YFN Lucci, including her mother Toya Johnson. Not only did their eight-year age difference rub folks the wrong way, but the fact that he had several children didn't sit right with some of her fans.
In 2020, the "Letter from Lucci" artist appeared on the "Established With Angela Yee" show, where he hinted that there might've been some problems between Carter and the mothers of his children.
When she asked what Carter's relationship was like with the mothers of his kids, YFN Lucci responded, "We working on it. It's going to be smooth though. Everybody just gotta get the bigger picture."
So far, Carter seems to be successful in taking her own advice to stay in her lane. There has yet to be any public altercation between her and the mothers of her partners' children — past or present.