Reparations
Tennessee Democrat Justin Pearson Questioned On Breakfast Club: I Support Cash Reparations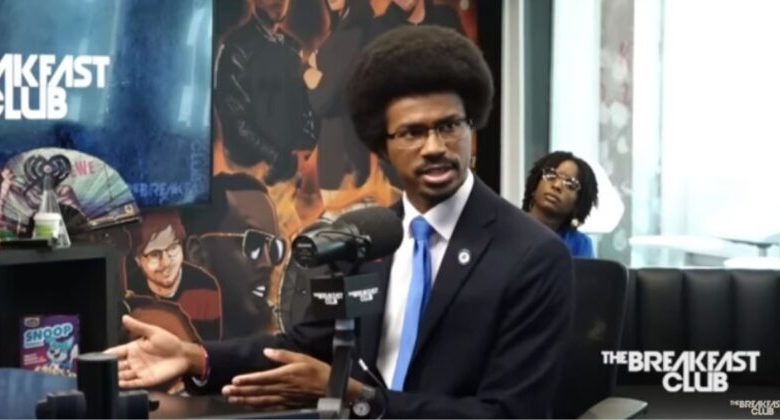 Expelled Tennessee House of Representatives member Justin J. Pearson, a Democrat representing Memphis, was reappointed on April 12 by the Shelby County Board of Commissioners to fill the House District 86 seat as an interim representative.  
In a recent interview with The Breakfast Club discussed the political drama and came out for reparations.
The vote to return Pearson was 7-0, CNN reported. The GOP-dominated chamber expelled the state representative after he and two other Democrats called for gun reform on the chamber floor. He was expelled along with Rep. Justin Jones. Pearson and Jones are Black. Jones was reinstated as an interim member and returned to the state House victorious April 10, following a unanimous vote by the Nashville Metropolitan Council. Rep. Gloria Johnson, who is white and participated in the demonstration on the floor of the House, kept her seat. Pearson, Jones, and Johnson have been dubbed the Tennessee Three.
"You cannot expel hope," Pearson, 28, told supporters at the meeting. "You can't expel our voice, and you sure can't expel our fight. We look forward to continuing to fight, continuing to advocate."
"Democracy will win in the end," Pearson told CNN after being reappointed.
Pearson also had an interview with the syndicated morning show The Breakfast Club during which he was asked about his exclusion and reparations, among other issues.
In an episode entitled "Justin Pearson Talks Reasons For Being Expelled, Reparations, Environmental Racism + More," Peason was interviewed on April 11.


Black Americans Have the Highest Mortality Rates But Lowest Levels of Life Insurance
Are you prioritizing your cable entertainment bill over protecting and investing in your family?
Smart Policies are as low as $30 a month, No Medical Exam Required
Click Here to Get Smart on Protecting Your Family and Loves Ones, No Matter What Happens

When asked about why he decided to join gun control protesters instead of bringing up the issue to the committee, Person said, he has tried in the past but has been ignored by his colleagues in the Tennessee House.
"I have raised my hand for dozens of bills, and the speaker can choose not to recognize me," he said. "That day I raised my hand…the speaker refused to recognize me every time a bill came up that I was going to speak on. I started with the sentence we need to do something about ending gun violence, the speaker said after the third time if you do that again I will censor you for the rest of today's session."
On reparations, Person said he backed cash reparations.
"I'm 100 for reparations. I have been for a very long time for cash, for credit, for check, for credit cards, for trust fund," he stressed. "The reason why I'm for reparation isn't just because of the enslavement of Black people…we have to walk through housing segregation, we got to walk through lynching, we got to walk through mass incarceration, which we're experiencing now. What we want is reparations for all of these harms that we have experienced."
Justin J. Pearson on The Breakfast Club, April 11 (Photo: YouTube screenshot, https://www.youtube.com/watch?v=D6EtwT3tu08)