Reparations
The Reparations Number is $14 Trillion, $350,000 Each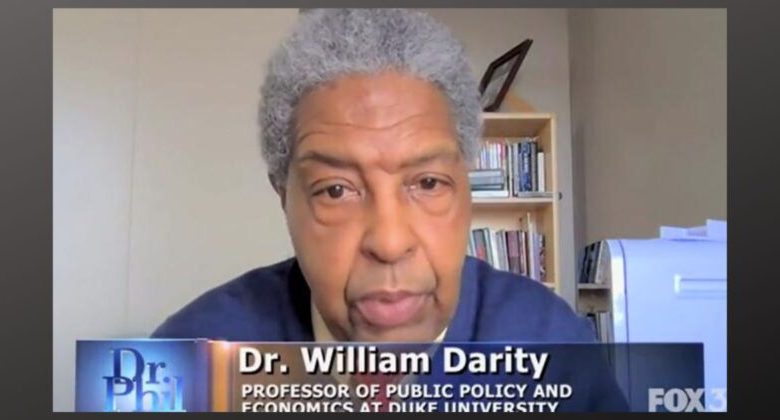 On an episode of the Dr. Phil TV show entitled "Should We Allow Reparations to Black Americans?'" Dr. Phil and his guests debated whether reparations should be given to Black Americans. Longtime reparations advocate Dr. Sandy Darity, a Duke University economics professor, was one of the guests. Darity, who co-authored the book "From Here to Equality: Reparations for Black Americans in the Twenty-First Century" with A. Kirsten Mullen, told the Dr. Phil show audience that the Reparations number is $14 trillion, which would come down to $350,000 for each eligible Black American who could prove slave ancestry.
On the April 18 show, Dr. Darity challenged Dr. Phil, who said he thought cash reparations were a bad idea.
According to the talk show host, issuing thousands to every Black American descendant of slaves would be an "absolute disaster for the nation.
Darity suggested the U.S. government issue the funds in much the same way it sent out checks to millions of Americans during the onset of the covid-19 pandemic, The Daily Mail reported.
"It would be paid by the federal government in the same way in which the federal government has met the expenses that were paid out for the purposes of trying to deal with the great recession and also, most recently, with the economic downturn associated with the great pandemic," he said.
But Dr. Phil argued that people would mismanage their money.


Black Americans Have the Highest Mortality Rates But Lowest Levels of Life Insurance
Are you prioritizing your cable entertainment bill over protecting and investing in your family?
Smart Policies are as low as $30 a month, No Medical Exam Required
Click Here to Get Smart on Protecting Your Family and Loves Ones, No Matter What Happens

"I can tell you from a psychological perspective that if you take $350,000 or $840,000, and you write a check to any group of people – Black, white, poor, homeless, whatever – you give any group of people that much money and say, 'there you go, best of luck,' you come back in six months, they're going to be broke," he said.
He added, "Whatever repairs are done, that would be an absolute disaster, as opposed to guidance and help in creating generational wealth, as opposed to income."
Darity shot back that Dr. Phil was unfairly labeling Black people as irresponsible.
"No one ever says that there's going to be mismanagement of funds when we're talking about the distribution of reparations payments to other communities," Darity said.
Dr. Phil persisted and answered, "I just said it. I just said, 'you give that money to anybody, they're going to mismanage it. They're going to blow it.'"
According to Darity, cash reparations are the only way to "eliminate the racial wealth gap in the United States."
Darity has suggested in the past that cash reparations don't have to be issued in one payment but could be spread out over a number of years. And many reparations activists suggest financial guidance programs be offered along with the cash reparations.
Duke University professor William Darity (Photo: House Of Entertainment / YouTube screenshot, https://www.youtube.com/watch?v=oNS-4JmjfQI)