Black Breaking News
The Ultimate Powerhouse Collab: Cecily Wilborn & Southern Soul Super Producer Kang803 Drop Viral Dance Track "Party" on Black Friday
The New Hit Single will be available Friday, Nov 24th on all Streaming platforms.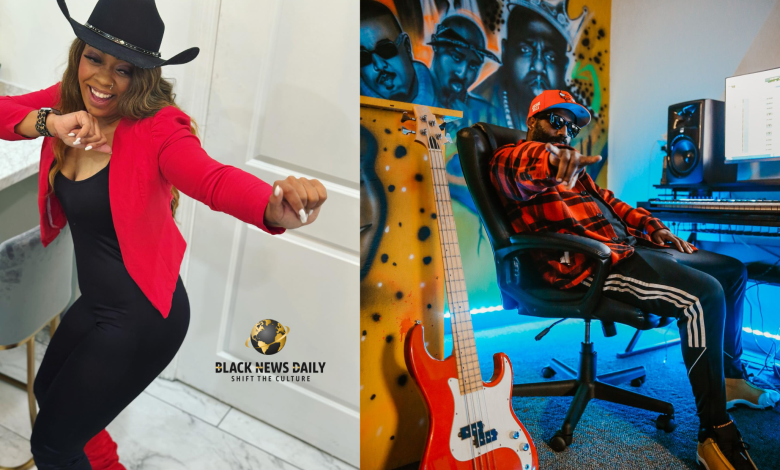 Get ready for a musical treat this holiday season as Cecily Wilborn and Southern Soul Super Producer Kang803 team up to drop a fantastic dance track called "Party." The song is hitting the scene on Black Friday, kicking off the holidays with a bang in 2023. It's not just any song—it's all about bringing your family and friends together to have a great time and dance like nobody's watching. With a catchy beat and feel-good vibes, "Party" is the perfect soundtrack for spreading joy and making memories this holiday season.
Who is Cecily Wilborn? 
Cecily, a groundbreaking R&B/Southern Soul sensation hailing from West Memphis, AR, isn't just an artist—she's a force to be reckoned with. Armed with a degree in Music Production from Full Sail University, Cecily has recently made waves as the latest powerhouse female artist to join the ranks of Nu Planet Entertainment, a recording label known for its cutting-edge talent.
Her star shines brightly with the monumental success of her single "Southern Man," a track she not only wrote but also recorded and produced solo. The song has become a global sensation, amassing an impressive 6.8 million streams worldwide and counting. Cecily's artistry transcends boundaries, captivating audiences around the globe.
Her journey includes sharing the stage with A-list celebrities such as King George, West Love, Trina, and more. Some of her most unforgettable performances have graced iconic venues like BB King's Stage, the Essence Festival in New Orleans, The Apollo in NYC, and the electrifying Memphis vs Lakers game at the Fed Ex Forum in Memphis, TN.
Cecily is not just an artist on the rise; she's a trailblazer breaking new ground in the world of R&B and Southern Soul, leaving an indelible mark on the music industry.
Who is Kang 803?  
With an unparalleled passion for music, Kang 803 has not only risen to the top of the Southern Soul scene in the United States but has become a global phenomenon, captivating audiences worldwide.
Every production crafted by Kang 803 is not just music; it's a phenomenon that resonates across borders, creating a worldwide appeal and amassing a dedicated fan base. His unique blend of Blues, Gospel, Country, and R&B serves as a sonic tapestry that captures the essence of the American Southeast, establishing Kang 803 as a true musical visionary.
As the undisputed number 1 producer in the Southern Soul realm, Kang 803's groundbreaking masterpieces have catapulted his crossover artist, King George, into the spotlight. The music created under Kang 803's guidance has become an anthem, echoing in every corner of the globe. This success stands as a testament to Kang 803's unmatched ability to shape and redefine the Southern Soul landscape.
Conclusion
As the musical landscape eagerly awaits the release of their electrifying collaboration, starting with the much-anticipated single "Party" dropping on Black Friday, Kang803 and Cecily Wilborn are poised to redefine the Southern Soul experience. This dynamic partnership not only showcases Cecily's exceptional talents but also highlights Kang803's unparalleled creativity and versatility in working with emerging Southern Soul artists.
"Party" is just the beginning of a musical journey that brings out the best in Cecily, capturing the essence of her artistry in a way that resonates with audiences worldwide. Kang803's ability to infuse authenticity, skill, and the gift of composing timeless music is not just about making beats; it's about elevating an artist to new heights.
In a music industry where true innovation and authenticity are sought after, Kang803's collaboration with Cecily Wilborn stands as a testament to the transformative power of production. As they embark on this musical venture, one can only anticipate the groundbreaking impact they will make, not only with "Party" but with the promise of more soul-stirring creations on the horizon.