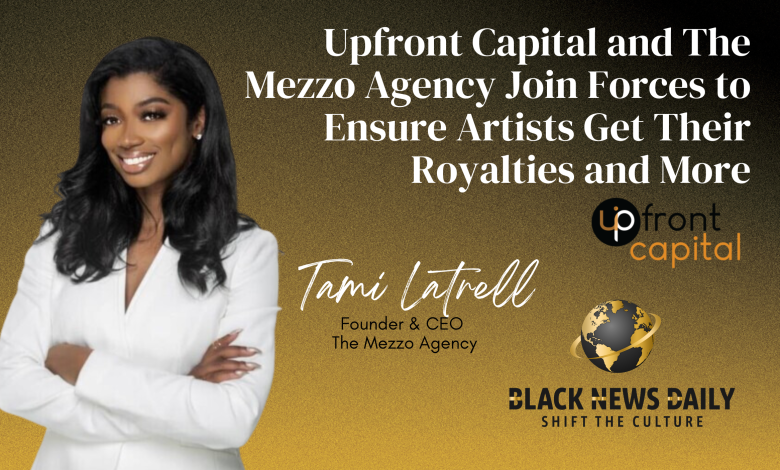 Upfront Capital, a music rights IP marketplace, has partnered with The Mezzo Agency, an emerging global music publishing administration company, to provide administration and publishing services for Upfront's artists' catalogs. The partnership aims to empower music creators by collecting all their proper royalties and managing their intellectual property rights efficiently.
In today's entertainment industry, there are various revenue streams that music intellectual property can capture, such as microsync, international, mechanical, and performance royalties. However, collecting these royalties can be a daunting task for artists, especially those who are starting their careers. With this partnership, Upfront Capital and The Mezzo Agency aim to bridge this gap and ensure that artists get their fair share of royalties.
According to Anthony Caesar, the CEO of Upfront Capital, the partnership is crucial in their mission to help artists gain true freedom in their careers. "With an established publishing administrator, we can ensure artists are getting their royalties, and we can track everything," Caesar said. "It's also a great honor to get to work with someone like Tami LaTrell (CEO of The Mezzo Agency), who aligns with our vision of artist independence, scaling their careers, and rewarding fans."
The Mezzo Agency offers various services to music creators at different levels of their music careers, including copyright registration, catalog metadata management, and global royalty collection on both master and composition copyrights. The agency's support not only ensures that music rights are managed efficiently, but they also empower music creators through advocacy and education along the way.
The Mezzo Agency's catalog represents over $2M in copyrights, with writers and producers who have collaborated with popular artists such as Future, K Camp, Ye, Gunna, Queen Naija, Tee Grizzley, to gospel legacy artists such as Kim Burrell, Hezekiah Walker, and the Estate of Rev. Paul Jones.
Upfront Capital, on the other hand, enables musicians to offer ownership share in their music IP royalties directly to their fans on their platform, creating a new economy for musicians to battle the lopsided power dynamic of the music industry.
In conclusion, the partnership between Upfront Capital and The Mezzo Agency is a significant development in the music industry. With both companies' expertise and commitment to empowering music creators, artists can expect to have more control over their intellectual property rights and get their fair share of royalties.
The Mezzo Agency LLC is a global music administrative services provider founded in 2018. The Agency offers their clients all core services involved in the release, protection and publishing of music, such as copyright registration, catalog management, licensing, royalty distribution and more. For more info, visit https://mezzoagency.com/