Reparations
Biden White House Spokeswoman Punts On Presidential Reparations Commission: That's For Congress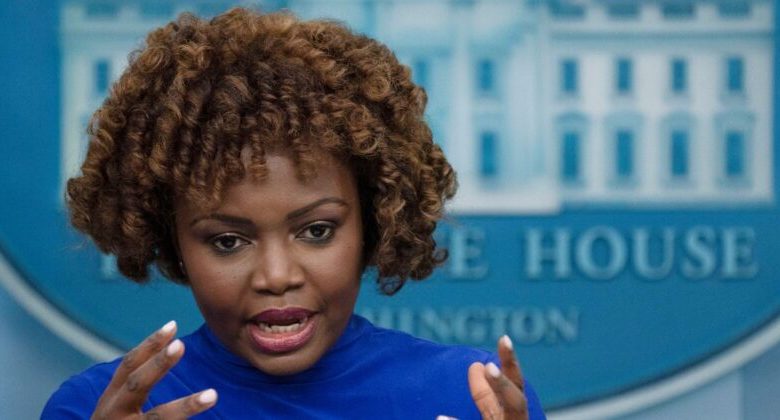 Longtime reparations bill HR40 has been stalled for months, leaving many to ask President Joe Biden to sign an executive order issuing reparations or at least a study on reparations. But when the White House press secretary was recently pressed on Biden's intention on reparations, she punted the question.
HR40, which calls for establishing a federal reparations commission, has been introduced in the House since 1989 when Rep. John Conyers introduced the measure. Rep. Sheila Jackson Lee took over as the primary sponsor of HR40 after Conyers retired. After much hype, the legislation stalled.
On March 21, White House press secretary Karine Jean-Pierre refused to reveal Biden's stance on a federal bill to study reparations for Black descendants of slaves. She passed the ball by saying, "We're going to leave it for Congress to decide."
A reporter asked Jean-Pierre where Biden stands "on reparations for slavery and segregation, and similar historic wrongs" specifically affecting Black Americans, The Daily Mail reported.
"We think Congress is the appropriate venue for consideration on such action, and so we're going to leave it there for Congress to decide," she responded. "We understand that there's legislation on the Hill currently on this, on the study of reparations, and we think Congress is the appropriate venue for consideration on such action. And so, we're going to leave it there for Congress to decide, to let them go through the process that they're taking at this moment."


Black Americans Have the Highest Mortality Rates But Lowest Levels of Life Insurance
Are you prioritizing your cable entertainment bill over protecting and investing in your family?
Smart Policies are as low as $30 a month, No Medical Exam Required
Click Here to Get Smart on Protecting Your Family and Loves Ones, No Matter What Happens

She also declined to comment on San Francisco's proposed $5 million payments per eligible Black adult, Fox News reported.
In January, Senator Cory Booker, a Democrat, re-introduced his S.40 legislation that would establish a federal commission to consider proposals for reparations for African-American descendants of slavery. 
When the reparations bill was first introduced two years ago. At that time, the White House said Biden supported the idea of studying the issue.
Reparations advocate William Darity said he wasn't impressed with S.40, as it has the same flaws as HR40. He has said repeatedly he feels strongly that HR40 needs to either be replaced in "its entirety or to leapfrog it and move directly to the design of legislation for reparations."
Here is why the current bill doesn't work, Darity wrote.
"…naïve in the belief that the hearings truly would explore ways to improve the HR40 bill, I was supportive of the passage of the bill, subject to revision. The sustained resistance to any critical assessment of the content of HR40 on the part of the National Coalition of Blacks for Reparations in America (NCOBRA) and their allies, particularly the National African American Reparations Commission (NAARC) and the Institute of the Black World is leading me to reconsider my position," Darity wrote in Actify.
A central problem with the bill, Darity said, involves the commission that it proposes. That commission would consist of "seven members, three appointed by the U.S. president, three appointed by the Speaker of the House, and one appointed by the President Pro-Tempore of the Senate."
White House press secretary Karine Jean-Pierre, speaks during a press briefing at the White House in Washington, March 7, 2023. (AP Photo/Manuel Balce Ceneta)