Reparations
Target Security Guard Throws Knockout Punch Over Demand That $1000 Bill Be Paid With Reparations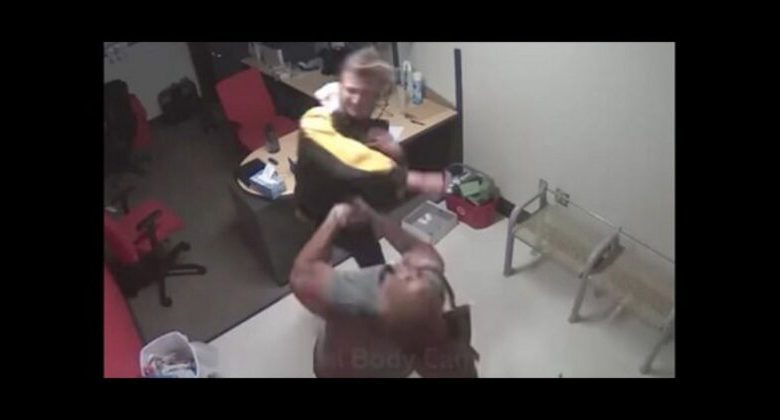 A Black female Target customer was punched in the face by a store security guard after the two got into a confrontation over more than $1,000 worth of groceries. The fight began when the customer asked for "reparations" while at a checkout line, according to a police report.
While the incident happened in October 2022 at a Target store in Blue Ash, Ohio, a video of the confrontation is currently making its rounds on social media. 
Customer Karen Ivery, 37, asked a cashier for the manager regarding the bill and reparations, The New York Post reported. The police reported that when the manager arrived at the checkout area, the manager said that if she wanted a donation, she would need to call in the morning. The manager claimed this caused Ivery to become verbally aggressive.  
Ivery then walked "aggressively" toward the manager, the report said.
Security staff member Zach Cotter, 28, intervened. He asked Ivery to leave the store, the report stated. Instead, she allegedly began screaming at Cotter and followed him to his office. When he tried to shut the office door, Ivery allegedly forced her way in, and Cotter threw a punch, according to the report.
He then called the police. Ivery, who did not need medical attention, was arrested.
The report does not explain why Cotter left the checkout area and went to his office instead of resolving the incident.


Black Americans Have the Highest Mortality Rates But Lowest Levels of Life Insurance
Are you prioritizing your cable entertainment bill over protecting and investing in your family?
Smart Policies are as low as $30 a month, No Medical Exam Required
Click Here to Get Smart on Protecting Your Family and Loves Ones, No Matter What Happens

Authorities wrote that they determined Ivery was the "aggressor" after reviewing closed-circuit TV video footage of the incident. She was arrested.
In a bodycam video of the purported incident on YouTube, Ivery told an officer she wanted the cashier to contact the manager "so we could have a larger conversation about how money works, and how the provision works, and how it's been working in our community in a very wrong way."
"This is my Rosa Parks moment," she added.
Ivery was sentenced to a day in jail and charged $110 for disorderly conduct, the Daily Mail reported.
A Target spokesperson declined to comment about the incident. There is no word if Cotter is still employed by Target.
Photo: Target security staff member Zach Cotter is seen on closed-circuit TV video footage punching customer Karen Ivery (from Blue Ash Police Department, Ohio)