Fashion
Charlotte Tilbury Pillow Talk Makeup Bag -Get Glamorously Organized!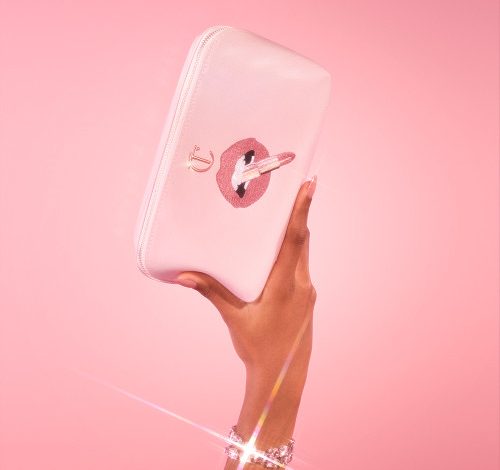 Pillow Talk is POPULAR. Worldwide, ladies cannot seem to get enough of this fabulous makeup collection. Literally, every six minutes another Pillow Talk product is sold. And now, things get even sassier because there is a new offering for this glamorous and luxurious lineup. Prepare the coins… the Charlotte Tilbury Pillow Talk Makeup Bag is ready for its spotlight!
Makeup bags are excellent because they help you keep track of your makeup and keep it all extremely neat. Plus, if you are ever traveling such a bag nicely enables you to safely carry all your beauty, makeup products and tools. And since these bags come with helpful departments you have easy access to exactly what you want to use.
Some details and elements of the Pillow Talk Makeup Bag include:
Easy to use, choose and gift
Multi-Magic Organizer with different compartments to effortlessly organize your lip, eye as well as cheek makeup
Perfect to segment, store and travel with in style!
Designed in pillow talk pink and embroidered with Charlotte Tilbury's iconic pillow talk lip design
Charlotte Tilbury Pillow Talk Makeup Bag -Get Glamorously Organized!
Nevertheless, Charlotte Tilbury has a few more fabulous details to share about her glam makeup bag and design. Regarding the coveted Pillow Talk Makeup Bag, Tilbury states,
"Darlings, effortlessly organise your favourite beauty secrets with my Pillow Talk Makeup Bag, a multi-magic makeup organiser!

This must-have beauty bag features different compartments to easily segment, store, organise and travel with your makeup products!

In PILLOW TALK PINK with an ICONIC lip print design and rose gold zip, this is the essential makeup organiser for glow-getters, lipstick-lovers and Pillow Talkers EVERYWHERE!

THE PILLOW TALK PARTY IS BACK! My Pillow Talk Makeup Bag joins my Pillow Talk Matte Beauty Blush Wands & Pillow Talk Hypnotising Pop Shots as the newest additions to my AWARD-WINNING, WORLD-FAMOUS Pillow Talk collection! Shop the ICONS and NEWNESS by discovering the full collection."

Pillow Talk Makeup Bag- The Final Details
Sounds wondrous! Ready to get some radiant organization going darling? All you have to do is head to the Charlotte Tilbury online store (CharlotteTilbury.com); and get your Pillow Talk bag.
How much will it cost you to add this fun and stylish makeup bag to your Beauty collection? Currently, this item retails for just $45! Nevertheless, are the coins not stacking right this month?
No problem Beautiful, Charlotte Tilbury also offers payment using Klarna. Therefore, for 4 interest free payments of $11.25 you can get your Pillow Talk on. Happy shopping lovelies!
**Want Even More Beauty, Lifestyle, Hair, Fashion as well as Celebrity Style Sighting News, Insights as well as Trends? Well Honey do we have something special for you! Slide on over to our TikTok or Inspo filled Pinterest! Click HERE**
Thoughts on Charlotte Tilbury Pillow Talk Makeup Bag -Get Glamorously Organized!!? Well let's connect then! We're always around and love to hear from you. Therefore, join the discussion and talk all things 1966 Magazine; fashion as well as celebrity style sighting related with us by dropping a comment like its hot down low. Or also hit us up on our TikTok, Instagram (1966mag); Tumblr, Pinterest or tweet us @1966magazine.