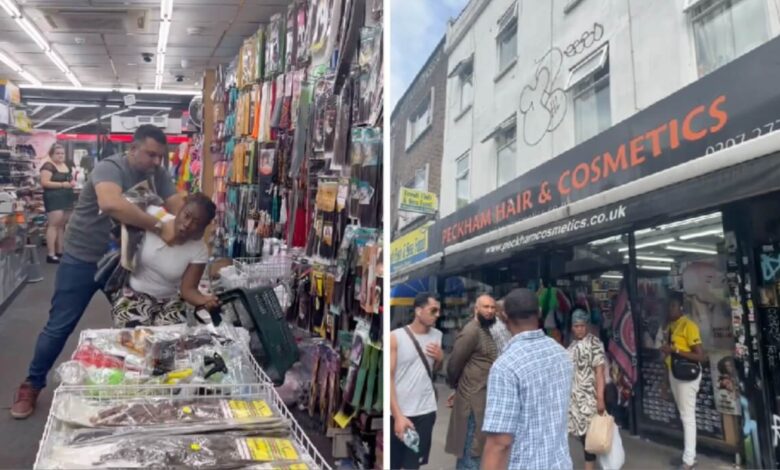 The UK beauty supply shop owner caught on camera restraining a Black woman by the neck inside his store says he and his family are struggling.
Sohail Sindho, owner of Peckham Hair and Cosmetics in London, told local media that he "lost everything" after a video went viral of him tussling with a Black woman inside the shop last month. 
The footage recorded by a bystander shows a man, later identified as Sindho, appearing to grab the woman by her neck while walking into the store. The woman fights back and starts hitting him in the head with a green basket. The owner then begins to hold her hands behind her back.
Trending Today: 
The eyewitness who recorded the altercation said it happened after the woman requested a refund, but Sindho only offered her store credit. That person added that when the woman attempted to leave the store, he "proceeded to drag her" back inside, and the situation escalated.
Sindho said he was trying to stop the woman from leaving the shop because she grabbed additional items after he offered her the store credit instead of the refund. He told a news website that he grabbed her by the throat to "neutralize" her while they waited for police. 
The incident sparked a wave of demonstrations outside his store, calling out violence against Black women. Now Sindho has told MyLondon that he has no customers, sold the shop, and is about £700,000 (about $855,823.50 USD) in the hole. He also said he plans to leave South London and take his children out of school as a safety measure. 
 "I have nothing in my pocket now, and I'm living off loans from my friends and family," Sindho said during an interview with the news website. "Things are getting worse every day. My kids haven't had a warm meal in a month. They have been eating bread with jam and chocolate."
According to the Daily Mail, when the store opened under new management on Sunday, Oct. 9, they were forced to close due to the demonstrators potentially turning customers away.
"We will be out here every day making sure that you do not serve people. So we are ready for you. We are ready," one protestor said, the outlet reported. The group added: "'You touch one, you touch all."
However, when police arrived on Tuesday, they said the protesters were "peaceful and good-natured," Daily Mail reported.