Black Business
Viral Photo of 'Flip-Flop Man' Outside of Beyoncé Concert Has Many Calling Him a Genius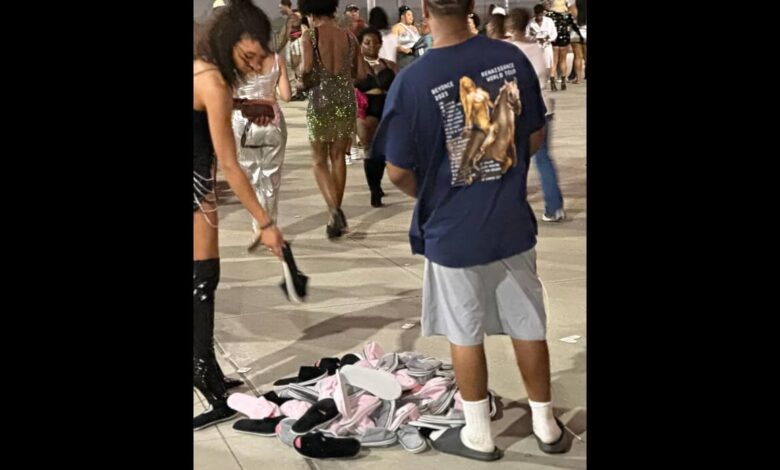 One Atlanta entrepreneur set up shop outside of the Mercedes-Benz Stadium, banking on the fact that Beyoncé fans would party so hard in their fancy shoes that they would need some relief after the show.
Now, a photograph of the street hustler, known as the "Flip-Flop Man," has gone viral, with people noting the move as one of the most brilliant hawks of the year.
The Grammy Award-winner's sold-out Renaissance World Tour hit Atlanta on Aug. 11, 12, and 14, with people pulling out all the stops to dress in theme. The slipper vendor peeped at the high heels that accompanied the silver and white sequin studded outfits and knew people would want something more comfortable on their feet.
Related: Louisiana Braiders Had to Close Three Salons After State Demanded That They Train to Do Hair for 500 Hours – Something They've Already Been Doing for Years
Orlando Evans saw the street businessman selling his slippers. As he stood over the house shoes, Evans snapped the flick and posted it on Facebook on Aug. 15, a day after the last show.
Evans captioned it, "Temp Post; The Hustle is real. Flip Flop Man is moving product after the Beyoncé Concert.'
According to social media posts, the vendor initially started selling the "flip-flops" for $10 and later boosted them up to $20 after the show.
Some concertgoers were upset that they didn't see him on their way home.
"I DEFINITELY would have bought a pair if I was there and my feet started acting like a damn fool," one person wrote.
Many saluted his ingenuity, saying the man was "smart as hell" and "genius" for coming up with his plan.
"When preparation meets opportunity!" a Beyhiver said.
"I love a man with a plan!!!! Come on Lord and bless this Man's mind!!!!" one commenter wrote.
"I know somebody feet hurting from their shoes so this makes sense!" another person commented.
"The way I'm laughing. He understood the assignment. I bet he didn't even have to say a word. They came to him. All dressed up like divas, concert over and can barely walk back to the car. Feet hurt alert," one woman said.
In one day, the post garnered almost 2,000 likes, almost 800 comments, and close to 3,500 shares.
The Philadelphia Inquirer did a photo essay on the outfits worn by the Beyhive during the tour. Many of the women during the Philly stop wore flats or sandals — opting not to wear heels. Flip-Flop Man is lucky that not everyone got the memo.