Black Business
Young Entrepreneur Opens Detroit's Only Black-Owned Grocery Store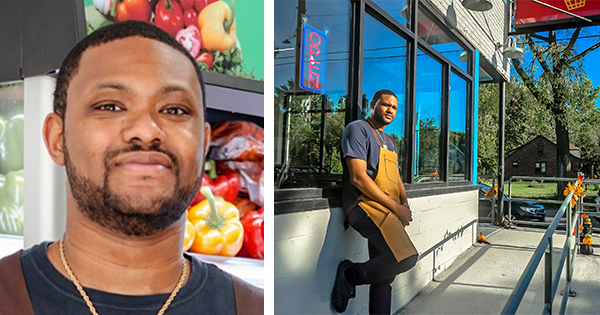 Meet 34-year-old Raphael Wright, the founder and CEO of Neighborhood Grocery, the only Black-owned grocery store in Detroit, Michigan, and the first to open in the city in almost 10 years. Raphael has invested six years of hard work to bring this vision to life offering a fresh focus on health and community.
"To build a community you have to have healthy food and healthy access to the food and the start is in grocery stores," Wright told WXYZ.
Wright, who is also a farmer, started his journey to create a grocery store in the underserved community in 2017. Three years later, he officially launched an equity crowdfunding campaign. He was then able to take over a former liquor store and turned it into the now Neighborhood Grocery in Detroit's Jefferson-Chalmers neighborhood.
True to its name, Neighborhood Grocery involves the local community in selecting what's on its shelves, and their names are proudly displayed as part of the store's decor. Inclusion, health, and education are central to Wright's mission.
"I'm from the neighborhoods I work in and I want to make them better. They were good at one point and I want to bring back that glory," he said.
Moreover, Neighborhood Grocery is a store funded by equity crowdfunding. The funds were raised via its GoFundMe page and other local crowd-investing efforts to help with their startup costs.
Learn more about Neighborhood Grocery via its official website at Neighborhood-Grocery.com
Be sure to follow them on Instagram @NeighborhoodGrocery
Also, you can support the business by visiting its location at 500 Manistique St, Detroit, MI 48215.