Cannabis
Apple Fritter by Philosopher Seeds- Alchimia Grow Shop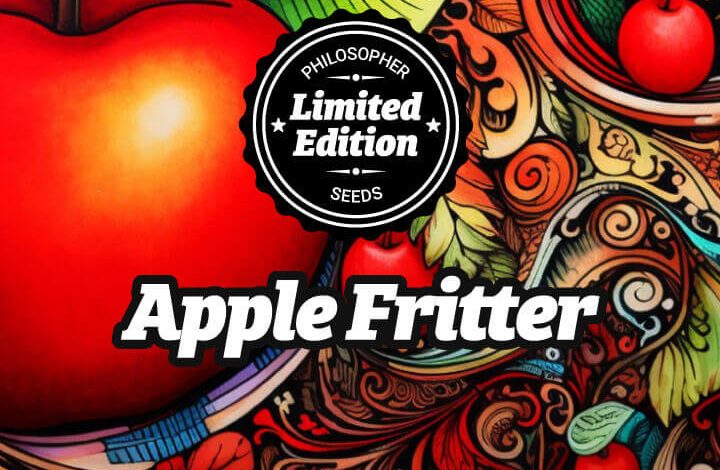 Philosopher Seeds has recently presented a new addition to its catalog of Limited Edition feminized seeds, a truly exceptional variety: Apple Fritter. This genetics, known for its astounding production of sticky trichomes and dense flowers, has captivated a whole legion of growers who never cease to be surprised by its spectacular results.
In this article, we will explore in depth the magic behind Apple Fritter from Philosopher Seeds, from its genetic lineage to its most notable characteristics, including of course its potential benefits. A plant that, without a doubt, will give you a lot to talk about in the coming years thanks to the wonderful results it offers and its ease of cultivation, which make it a fantastic candidate to occupy a place of honor in your garden whether you are a novice grower or a professional.
Apple Fritter, the birth of a myth
Since its inception, Apple Fritter has become a flagship strain for Lumpy's Flowers seed bank a company based in the Napa wine region of Northern California that has made a name for itself in the demanding cannabis seed market for the unique combination of fruity and sweet flavors, in addition to the high THC content, that many of their strains present. Currently, this variety has achieved practically iconic status, being the most requested among the entire Lumpy's Flowers collection.
Its origin dates back to 2013, when Jason Dias (co-owner of Lumpy's Flowers) made a cross between Sour Apple and Animal Cookies. At that time, Jason was carrying out his experiments in the basement of his home and, although his first attempts with these genetics did not convince him, in the end, his efforts were not in vain; Of the last four seeds that he tried, two of them would change the course of his career definitively: Reckless Rainbow and today's protagonist, Apple Fritter.
Since its creation, this variety has conquered a wide audience, both those who use it for recreational purposes and those who seek its medicinal qualities, whether they are homegrowers or professionals. In addition to being the jewel in the crown of Lumpy's Flowers, this plant has been used to develop new high-level hybrids by other seed banks, both American and European. In 2016, Lumpy's Flowers Apple Fritter took second place in the Hybrid category at the High Times Cannabis Cup in Northern California, one of the most prestigious marijuana events in the world.
A winning genetic combination
As you have seen, Apple Fritter is born from a hybrid between two top-level varieties, Sour Apple and Animal Cookies. The first is born from the hands of Top Shelf Seeds and is the result of a cross between Sour Diesel and Cinderella 99, two genetics that today need no introduction and that have earned a place in the hearts of thousands of users around the world. It stands out mainly for its high resin production and its peculiar flavor, a powerful mix of fuel notes with hints of caramelized apple that always leaves you wanting more.
For its part, Animal Cookies (also known as Animal Crackers) comes from a cross between one of the genetics that has acquired the most fame in recent years, Girl Scout Cookies, with one of the most appreciated lines of the OG Kush family, Fire OG. The result is plants with a strong relaxing effect and a delicious flavor that mixes earthy and sour notes with sweet and creamy nuances, which also come loaded with a spectacular layer of brilliant resin that produces 5-star concentrates.
Apple Fritter by Philosopher Seeds
In order to reproduce the Apple Fritter clone, Philosopher Seeds has decided to cross this cut again with Animal Cookies, resulting in a backcross. In this way, some of the traits of Animal Cookies are reinforced, such as its impressive trichome production and its unmatched flavor and aroma.
This Indica-dominant hybrid demonstrates its versatility in a wide range of growing environments, from indoor or outdoor cultivation to greenhouses. However, in regions with high outdoor humidity or a lot of rainfall at the end of flowering, extra caution is required, as its dense flowers can be prone to fungal problems such as botrytis.
The Sea of Green – SOG – marijuana growing technique highly optimizes the available growing space while allowing us to perform more crops per year than with other systems. In this post we'll tell you a bit about this high-yielding growing method, following all the necessary steps to achieve excellent results.
When growing indoors, you can use techniques such as SOG to grow it in small spaces without too many problems, a method that is perfect given its medium size and compact structure. As for nutrition, it will give great results both from a completely organic approach and using hydroponic fertilizers, as long as the accumulation of salts in the substrate is avoided. It is not a particularly demanding variety in terms of the amount of nutrients, so a balanced diet with a medium load of fertilizers usually works perfectly.
Once flowering has begun, it is advisable to use supports for the main branches, whether stakes or support meshes, since during the second half of the flowering phase the buds gain weight and density, which can make it difficult for the branches to maintain their vertical position. Apple Fritter completes its flowering cycle in approximately 9 weeks, being able to yield more than 500 grams of dried flower in a growing space of 120 x 120 centimeters.
In outdoor growing environments, and if soil rich in organic matter is used, this variety has the potential to exceed 700 grams per plant, growing like a giant especially if grown directly in the ground. With the right temperature conditions, it often displays blue and purple hues in the pre-root washing stages, increasing its visual appeal and the quality of the final product.
Root flushing at the end of cultivation is a common practice among many growers, especially those using hydroponic systems or mineral nutrients. However, in recent years several studies have come to light that would question the effectiveness of this method. Today we delve into this topic and we tell you in detail the conclusions reached by these investigations.
Flavor and aroma of Apple Fritter by Philosopher Seeds
Having been backcrossed with Animal Cookies, Philosopher's Apple Fritter shows the characteristic caramelized apple flavor reinforced with intense sweet and creamy nuances typical of the Cookies line, as well as earthy and cinnamon notes, providing an experience as delicious as it is unique. A complex flavor that is maintained when performing resin extractions, especially when using fresh plant material, without previous drying.
As we have already told you, the effect is very intense and deeply relaxing, and it can reach a spectacular 30% THC in its flowers…don't plan too many activities after consuming it! Although at first it may seem stimulating on a cerebral level, indicated for a fun meeting with friends, after smoking a little more you will notice a deep feeling of relaxation both physically and mentally, being perfect for combating anxiety or stress.
If you are looking for a variety whose quality is beyond doubt, easily adaptable to various growing systems or techniques, that does not last more than about 60 days of flowering and that provides you with an unusual amount of resin, you should consider Apple Fritter from Philosopher Seeds in your sights, do not doubt it!
Happy harvest!
The articles published by Alchimiaweb, S.L. are reserved for adult clients only. We would like to remind our customers that cannabis seeds are not listed in the European Community catalogue. They are products intended for genetic conservation and collecting, in no case for cultivation. In some countries it is strictly forbidden to germinate cannabis seeds, other than those authorised by the European Union. We recommend our customers not to infringe the law in any way, we are not responsible for their use.