Black Business
Black Entrepreneur Launches New Bottled Tea Line, Expands Her Brand to Over 700 Grocery Stores Worldwide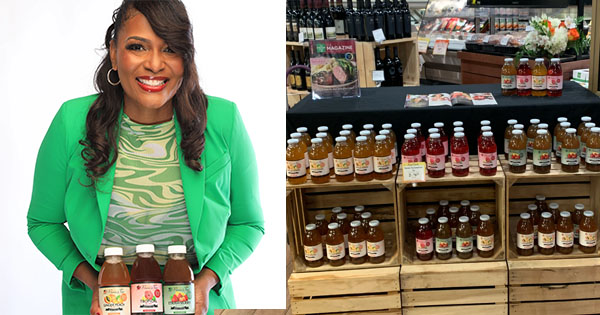 When the world thought it had seen the pinnacle of wellness and empowerment, Pennie's Tea, a Black-owned brand founded by unstoppable CEO Pennie Crockett, has broken through yet another ceiling. Unveiling its "What Tea is For Me" line as part of the empowering "Heal & Empower" collection. Pennie's Tea is now really making its mark taking over shelves in more than 700 retail stores with her bottled tea including giants like The Fresh Market, Gelson's, Giant Foods, Bristol Farms, and Mariano's.
A New Age of Tea — Functional, Therapeutic, Transformative
Pennie's Tea, a brand globally celebrated for its intersection of wellness and social change, introduces its functional teas —tailor-made for the health-conscious consumer. This new line merges the best of science, sommelier expertise, and soulfulness, to offer BIG & BOLD flavors that go beyond mere refreshment — they ignite your well-being and spirit.
A Woman of Force, A Brand of Purpose
Pennie, a Chicago-native and a former Health Science Professor, has always been a disruptor. She's shattered barriers in the male-dominated beverage industry, earning her product a sacred spot where less than 3% are occupied by Black female entrepreneurs. "We craft each blend with purpose and passion, combining exquisite flavors with unparalleled quality," declares Pennie.
More Than a Sip, It's a Social Statement
"What Tea is For Me" is not just another product; it's an activism you can taste. A portion of every sale fuels the Crisis Center for Women in Domestic Violence. "Every sip is a step toward healing and empowerment. We're not just in the tea business; we're in the business of transforming lives," she says.
The New Benchmark of Tea Has Arrived
Why settle for the ordinary when you can sip something extraordinary? With flavors like Ginger Peach Blast, Tropical Bliss, and Strawberry Kisses, your taste buds and your soul will thank you.
For more information or to join this transformative journey, visit the brand's official web site at PenniesTea.com
Also, be sure to follow the brand on Instagram and Facebook
About
Headed by Pennie Crockett — an accomplished entrepreneur, educator, and tea sommelier — and Consumer Package Goods Coach, Pennie's Tea is a revolution. With a Master's in Health and a heart full of courage, Pennie's Tea is not just a brand but a lifeline to women in domestic violence, supporting them through the Crisis Center in Chicago.
For press inquiries or media interviews requests, contact hello@penniestea.com or 855-558-8900.